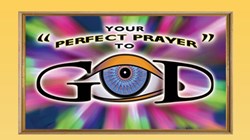 "Get Together and Share The Prayer!"
Novato, CA (PRWEB) January 07, 2014
A new year is upon us with a world full of enough turmoil and uncertainty to discourage even the strongest of us. However Neil feels we will find the strength to carry on with "Your Perfect Prayer To God". The Prayer is designed as an ultimate companion to help people through their daily lives.
The Messiah Network claims it has helped over a million people in less than a year.
'Your Perfect Prayer To God' was created by Neil H. Brandt after much deep thought and Divine inspiration as a means to provide direct communication with God for all faiths (see Sacred Places). Hundreds of positive comments from people all over the world have posted on the Messiah Network Blog, emails, twitter, & Facebook regarding The Prayer and the patriotic 'Born To America' YouTube.
The Messiah Network is asking those who have prayed the Prayer to do even more by sharing the prayer. Posters of 'Your Perfect Prayer To God' can be downloaded at TheMessiah.net to share with friends and strangers. Neil says, "Reciting 'Your Perfect Prayer To God' is the only New Year's resolution you need."
The Messiah Network believes whatever the 'crises of the day', take a few moments to reflect with some of the spiritual and infotainment music videos with original music from songs written and produced by Neil H. Brandt on The Messiah Network YouTube channel.
Neil has established himself in the mainstream press from coast to coast over the years (see 'Neil In The News'). Mr. Brandt's recent emphasis has shifted to a more spiritual pursuit so he created The Messiah Network, a website devoted to "Your Perfect Prayer To God!" Neil has appeared on many radio and TV shows (CNN, Larry King, Regis Philbin, Wiley Drake) and he has published books and various articles. He has knowledge and in depth experiences about God and spiritual teachings.
You can follow The Messiah Network on Twitter or Facebook or read the blog on TheMessiah.Net/blog. Neil H. Brandt is available for interviews regarding The Messiah Network and other specialty topics.
Please contact:
Lee Coffee
Communications Director