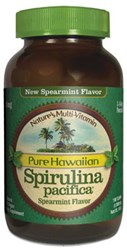 Nutrex Hawaii is focused on providing the most nutritious spirulina on the market, and is continually researching, testing and exploring ways to enhance the consumer experience
Kailua-Kona, HI (PRWEB) January 07, 2014
Today, Nutrex Hawaii announced the launch of new Spearmint Flavored Hawaiian Spirulina Pacifica®, the first mint flavored pure spirulina to hit the market. The 1,000 mg three per day formula offers the same nutritional benefits as regular Hawaiian Spirulina in a tablet with a minty fresh taste. Daily use of Hawaiian Spirulina strengthens the immune system and boosts energy levels.*
"Nutrex Hawaii is focused on providing the most nutritious spirulina on the market, and is continually researching, testing and exploring ways to enhance the consumer experience," said Gerald Cysewski, Ph.D., founder, executive vice president and chief scientific officer. "Hawaiian Spirulina provides superior nutrition and this new flavor now increases its appeal to mainstream consumers."
Hawaiian Spirulina is the world's most nutritious concentrated whole food supplement available, and one three gram serving provides:

60% protein and an excellent source of Vitamins A, K1, K2, B12 and iron*
Provides health-giving phytonutrients such as carotenoids, gamma linolenic acid, sodium oxide dismutase, and phycocyanin*
Higher levels of polysaccharides which support immunity and anti-viral activity than any other Spirulina brand
The recommended dosage of Hawaiian Spirulina is three tablets daily with or between meals. Spearmint flavored Spirulina is available online at Nutrex-Hawaii.com for $29.99 for a two month supply of 180 1,000 mg tabletsSpearmint flavored Hawaiian Spirulina is 100% vegan, and is free of gluten, lactose, soy, pesticides, herbicides and solvents and is grown with ultra-pure fresh water and deep ocean water. Learn more at Nutrex-Hawaii.com.
###
About Nutrex Hawaii
Founded with the goal of harnessing the benefits of microalgae to alleviate malnutrition and promote health, Nutrex Hawaii is a global leader in microalgae products.
*These statements have not been evaluated by the Food and Drug Administration. This product is not intended to diagnose, treat, cure, or prevent any disease.