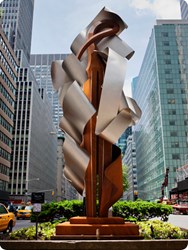 "Through this cohesive and unique program, ArtPalmBeach delivers a dynamic art fair that meets the high standards of the distinguished exhibitors and collectors that attend the fair each year." Palm Beach Society, 2013
Palm Beach, FL (PRWEB) January 09, 2014
ArtPalmBeach is considered one of the most influential contemporary art fairs on Florida's Gold Coast by both critics and art enthusiasts. Over 80 international galleries will be exhibiting contemporary and emerging artists.
Highlights Include:
ART SYNERGY
The inauguration of "Art Synergy," the first countywide gallery walk weekend taking place in six historic art districts coinciding with ArtPalmBeach. Supported by the PB Cultural Council, Mayor's Offices, Downtown Development Authority and Community Redevelopment Agencies, Art Synergy will include gallery receptions, open artist studios, performances, museum openings, lectures and special architectural tours. Find more information here.
Sculpture, Objects and Public Art
In collaboration with the International Sculpture Center in Washington DC and Sculpture magazine, the fair will feature sculptural works by major artists in every medium including new innovative medias: light, video, carbon, glass, porcelain, metal, sound and the world's first Nano Art Lab exhibition by French artist Michel Paysant.
Sculptor Albert Paley will receive the ArtPalmBeach Visionary Lifetime Achievement Award for his innovative use of forging metals in monumental sculptures. The Award's Reception will include a special viewing of the premiere episode of season five of Craft in America, entitled "Forge" a PBS series featuring Paley's 15 monumental sculptures at New York City's "On Park Avenue" exhibition.
GOING GLOBAL
"Going Global" special exhibitions will include: "The Awakening of the Middle East," a selection of established artists from the Middle East from Egypt to Iran via the United Arab Emirates, Lebanon and Turkey. This special exhibition will explore these artists' responses to the Arab Spring with a vision of the future of the region and questioning the cultural prejudices of the West.
Soo Jung Hyun's curated show and exhibition "Searching for a Cow in the Forest" will preview in ArtPalmBeach's Korean Pavilion and presents works by three artists including Lee Yong Baek, Lim Dong-Lak, Sung Hee Cho. "Searching for a Cow in the Forest" raises the question, "What is the distinguished and strengthened quality of Korean art in the global expansion?" The Korean art world has developed significantly and the art market has reached auctions, museums, galleries, art fairs and international museum exhibitions.
Lastly, Going Global will include a continuing exhibition of art from the Americas. This year exhibitions from Merconsur, southern cone of South America "Latin American Masters and Emerging Artists," will feature ten leading galleries from Chile and Argentina. Influenced by their European cultural heritage from modernism, geometric abstraction and surrealism these works represent the new contemporary fusion of today's trends in contemporary art from these Latin American capitals
LECTURE SERIES
This year's Lecture Series will include:
ArtPalmBeach presents Baby Jane in conjunction with the Norton Museum exhibition "To Jane, Love Andy" Andy Warhol's First Superstar. Jane Holzer, a Palm Beach native will be interviewed by art historian and artist Bruce Helander about Andy Warhol's favorite muse and model.
The International Sculpture Center will present an artists' panel discussion on "Kinetic Sculptures – Art in Motion" and FIU Frost Museum & Sculpture Park will present a stimulating panel on "Public Sculpture in Art & Culture."
Renowned sculptor Albert Paley will present a lecture presentation "Albert Paley on View" about his new public sculpture works and his current exhibition on New York City's prestigious Park Avenue. Paley received the Institute Honors, the highest award to receive among non-architects, awarded by American Institute of Architects (AIA).
The weekend lecture schedule will also include presentations on: contemporary photography; Korean art; video/new media/ internet; new trends in art and design and Palm Beach art revival.
For more information on participating exhibitors and programming, please visit the Fair website at ArtPalmBeach .
Preview
January 23rd First View 6:00-7:30pm
(Invitation only)
Collectors' Invitational
7:30-10:00pm (Admission with purchase of a multi-day ticket)
Fair Hours
January 24 - 27, 2014, 12pm - 7pm till 6 pm on the 27th
Fair Information: 239 495 9834
Palm Beach County Convention Center 650 Okeechobee Boulevard West Palm Beach, Florida 33401
One day pass: $15 in advance, $20 at the door; Multi-day pass: $20 in advance, $25 at the door
Children under 12: Free when accompanied by an adult.
ABOUT THE ORGANIZERS
ArtPalmBeach is organized by Lee Ann and David Lester, principals of IFAE LLC, a Miami based international art fair company established in 1989, and founders of Art Miami, ArtPalmBeach, American International Fine Art Fair, Miami Art + Design and Expoships' SeaFair. More information at http://www.ifae.com.