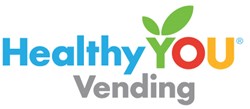 "HealthyYOU Vending has been a great business partner to assist in starting my own healthy vending business," says distributor Eric L. of Franksville, Wisconsin.
Salt Lake City, Utah (PRWEB) January 08, 2014
Over $115 million is put into vending machines every day in the United States, fueling a boom in vending merchandising, particularly for the growing trend of healthy vending. HealthyYOU Vending is a world leader in both industries, offering a proven business model for success in the groundbreaking healthy food vending industry.
Investing in a HealthyYOU Vending business is an excellent opportunity for investors interested in starting their own business in 2014. For a relatively modest investment, HealthyYOU Vending offers budding entrepreneurs the education and resources they need to get into business for themselves, whether they are looking to supplement their current income, eventually replace their existing job, or generate more savings towards a future retirement.
Starting in the vending industry 14 years ago, this organization has sold nearly 100,000 vending machines nationwide. A HealthyYOU Vending distributorship helps owner-operators position themselves in their respective markets as vending professionals while maximizing their potential with state-of-the-art vending machines that offer healthy food choices, free long-term support and the strongest guarantees in the industry.
HealthyYOU Vending is not a franchise, which means less cost up front and no trademark, licensing or royalty fees. "HealthyYOU Vending has been a great business partner to assist in starting my own healthy vending business," says distributor Eric L. of Franksville, Wisconsin. "I say 'partner' because from the time I decided to invest in my own business to actually getting it up and running, they have been there for me the whole way."
HealthyYOU Vending backs their distributors every step of the way, providing the most complete, ongoing training in the healthy vending industry. Distributors are in business for themselves, but never by themselves, and have said that HealthyYOU Vending provides more ongoing support than any franchise.
New distributors are invited to participate in Healthy YOUniversity, a two-day intensive training at HealthyYOU Vending's corporate headquarters in Kaysville, Utah. The training offers distributors an opportunity to learn everything they need to launch a successful healthy vending business. Held monthly, Healthy YOUniversity provides practical information and hands-on experience with HealthyYOU vending machines, products, proprietary vending software, business operations, website support, marketing and much more.
"The Healthy YOUniversity training was a huge help in jumpstarting our business," said Douglas L. and Joan B. from Kissimmee, Florida. "Everyone we've been in contact with has been wonderful and really taken the time to mentor us and get our business up and running."
HealthyYOU Vending also offers unlimited lifetime coaching via a toll-free phone number, so business support is available whenever you need it — at no charge. Distributors also have access to the Online Support Center 24 hours a day, seven days a week.
To find out more about HealthyYOU Vending and their distributorship opportunities, go to http://www.HealthyYouVending.com
HealthyYOU Vending is the world leader in the healthy vending industry. Founded by seasoned vending veterans Mike Burnett and Jeff Marsh, their corporate offices are located in Kaysville, Utah. All company vending machines are privately manufactured in the United States at a state-of-the-art facility. Distributorship opportunities for serious-minded entrepreneurs are currently available.