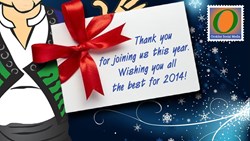 I got a lot more responses overall from the printed cards than from the same message sent on an email campaign. I'll definitely make print a part of my end of the year marketing strategy. - Veronica Athanasiou, Social Media Strategist
Los Angeles, CA (PRWEB) January 07, 2014
As inboxes overflow with email campaigns, consumers are ignoring the influx of unwanted marketing messages. Even companies who segment email lists to include only existing clients are reporting decreased openings as well as abysmal click through rates. Smart marketers will continue to send promotional emails in 2014, but they're relying on print for the more personalized messages that matter. Greeting cards, thank you notes, and handwritten letters attract positive attention and increase consumer trust in the digital age.
Social Media Strategist Veronica Athanasiou of Oroklini Design explains why she chose printed thank you notes to go along with her end of the year email to clients: "In the last few years I've experienced great pleasure in receiving printed cards from friends and connections. I thought that if this practice felt so good to me personally, it might have the same impact on my clients and supporters. I just wanted to do something different and special, to say thank you in a way that would make people actually feel it."
An online marketer at heart, she started her thank you campaign with a branded email for everyone on her snail mail list. Then she posted a teaser image of the stamped envelopes at the post office to her Facebook page. A few days later, her clients' responses started appearing across the web. Veronica's custom greeting cards included a written message on the back that she hand crafted for each recipient. The human touch delighted her clients so much that many expressed their appreciation publicly through social media. Photos of the cards popped up on Facebook, Instagram, and Twitter.
Her clients' reactions convinced Veronica to run an annual print campaign for the holiday season: "I got a lot more responses overall from the printed cards than from the same message sent on an email campaign. I'll definitely make this a part of my end of the year marketing strategy. Digital printing is so affordable that we really don't have any excuses not to do something like this. And I get to use the same graphic on my blog post and email campaign at the end of year, too!"
PrintFirm.com applauds Veronica's results, and believes many businesses will adopt a similar intimate approach. Emails and other online advertising tools serve a purpose, but print should be the channel of choice for important professional relationships. Luxury retailors have always relied on print media, such as catalogs and magazine ads, to reach upper class consumers. But digital dominance makes print and direct mail attractive options for any industry.
The Millennial generation is especially fond of print marketing messages. PrintFirm online marketing director Katherine Tattersfield views print communications from a vintage standpoint: "Those of us who grew up digital crave physical, tactile experiences. That's why we're obsessed with all things old school. If marketers want our attention, they need to think throwback with ink and paper."
About PrintFirm
Printfirm, Inc., trusted leaders in online printing, mailing, and design since 1996.