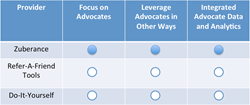 San Carlos, CA (PRWEB) January 07, 2014
Zuberance, the leaders in Brand Advocate marketing, has launched an innovative referral marketing solution that leverages enthusiastic customers (AKA "Brand Advocates) as a powerful referral marketing force.
By tapping into authentic Advocates, Zuberance delivers to brands thousands of qualified referral leads. This enables brands to fill the sales funnel with prospects referred by trusted Advocates.
"Advocates are your most loyal, engaged customers," said Rob Fuggetta, Zuberance Founder/CEO. "The leads you get from Advocates are much higher quality than other sources so they convert at a higher rate. And studies show that the customers Advocates refer are more likely to become Advocates themselves," said Fuggetta.
Making Referral Marketing Easy
Unlike tactical or do-it-yourself refer-a-friend tools, Zuberance provides a full-service referral marketing solution.
Zuberance's Advocate marketing experts develop and manage referral marketing programs and campaigns from end-to-end, saving brands significant time, effort, and cost. This also ensures that brands get the highest possible return on their referral marketing investment.
Unique Referral Solution
Zuberance's referral marketing solution differs in three key ways from others:
1. Zuberance leverages authentic Advocates as the primary source of referrals. Others rely on people motivated solely by personal gain.
2. Zuberance's referral marketing solution is part of Zuberance's broader Advocate marketing solution. Most refer-a-friend companies are limited to referrals only. With Zuberance, brands can also leverage Advocates to create content, like positive ratings and reviews, glowing
stories, and answers to prospects' questions.
3. Many tactical refer-a-friend tools create "silos" of campaign data. Zuberance provides a single view of all Advocate activities and data, enabling marketers to more effectively optimize campaigns, improve results, and get more insights about Advocates.
TiVo Generates 100,000 Referrals in 30 Days
TiVo, a leading consumer electronics company, leveraged Zuberance's Advocate Referrals solution for a highly successful referral marketing campaign to promote TiVo's highly acclaimed new TiVo Roamio® DVR. In only 30 days, TiVo:

Engaged over 50,000 Advocates (many of these Advocates had previously recommended TiVo in other ways)
Generated more than 100,000 referrals and responses
Reached over 10 million prospects on Facebook, Twitter, and other channels
"We're delighted with the results we received from Zuberance's Advocate Referrals," said Doug Bieter, TiVo Vice President of Sales and Marketing. "In addition to generating referral leads, Zuberance is enabling TiVo to leverage our Advocates in other ways, like ratings and reviews, testimonials, answers, and more. This makes the Zuberance Referral marketing solution truly unique and valuable," said Bieter.
To Learn More
Join Zuberance CEO/Founder, Rob Fuggetta, for an exciting and informative webinar about how to turn your Brand Advocates into a powerful referral, sales and marketing force.
Register here http://resources.zuberance.com/BrandAdvocatesWebinar.html to learn how to:
Tap into your Brand Advocates to get thousands of referrals
Avoid the three biggest mistakes of referral marketing
Mobilize your Brand Advocates to be your most powerful marketing force in 5 other ways
Pricing and Availability
Zuberance's Advocate Referrals is available now. Contact Zuberance now at info(at)zuberance(dot)com for pricing information.
About Zuberance:
Zuberance is the leading Brand Advocate marketing company. Zuberance delivers Advocate marketing programs and campaigns for leading consumer and business brands that drive leads, sales, and positive Word of Mouth. For more information, visit http://www.zuberance.com or follow Zuberance on Twitter @zuberance.
Media contact: Chelsea Hickey, chelsea(dot)hickey(at)zuberance(dot)com