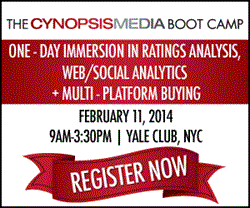 New York, NY (PRWEB) January 07, 2014
Cynopsis Media has developed an intensive one-day boot camp for media professionals looking for the critical tools, strategies and insights necessary to take their careers to the next level. The Cynopsis Media Boot Camp will be held at the Yale Club in New York City on February 11, 2014.
More information can be found at: http://www.cynopsis.com/events/the-cynopsis-media-boot-camp.
TV ratings experts will detail the best practices for analyzing both immediate data and extended metrics in our increasingly time-shifted universe. Vice President of Industry Insights at Nielsen, Peter Katsingris, and Thomas Ziangas, SVP of Research at AMC Networks, will explain the differences among Live, Live + SD, Live + 3, Live + 7, C3 and more in the "Everything You Always Wanted to Know About Reading & Understanding TV Ratings" Session.
Next, "Untangling & Interpreting Web Analytics" will provide the strategies necessary to find actionable takeaways from data, as well as the value of social media measurement. Hit the ground running by knowing exactly what page counts, entry page reports, exit page reports, referrers, and search phrases really mean and how you can use them to better your marketing and advertising plans.
Attendees will learn how to truly optimize deal-making strategies in our Multi-Platform Buying session. Ron Geraci, EVP of Research and Planning at the Nickelodeon Group and an executive from the brand/agency realm will train participants on the right combinations of brand lift, audience delivery, and sales impact. This session will also specify how to integrate ad impressions with purchase data to make smarter cross-platform buys.
The second half of each session will be an interactive clinic – allowing attendees to implement the strategies they've learned in each segment. Participants will role-play - interpreting ratings charts, and making recommendations to "clients" after analyzing web data and orchestrating multi-platform buys. The boot camp will also feature opportunities for networking and an "Ask the Experts" panel led by Adam Pincus, EVP of Programming & Production for GroupM Entertainment North America.
The Cynopsis Boot Camp will include lunch, a certificate of completion and much more. For registration questions, contact Peter Romas at pete(at)cynopsis(dot)com or go to http://www.cynopsis.com/events/the-cynopsis-media-boot-camp. For sponsorship information, contact Vice President of Sales and Marketing, Mike Farina at mike(at)cynopsis(dot)com.
About Cynopsis Media
Cynopsis Media is a division of Access Intelligence LLC. The Cynopsis Media family of products includes Cynopsis, Cynopsis: Digital and Cynopsis: Sports daily e-publications, weekly Cynopsis: Kids and Cynopsis: Classified Advantage e-publications, Special eReports, Event/Summits and a strong database of Classifieds and more. Visit cynopsis.com.