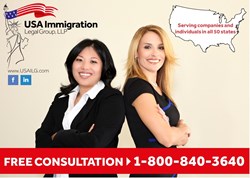 San Diego, CA (PRWEB) January 07, 2014
Recently formed USA Immigration Legal Group, LLP is committed to providing clients with experienced legal advice and personalized, culturally-sensitive service throughout the immigration process.
Founding partners Annette Monagas-Symon and Stephanie Sy bring a unique blend of legal expertise, business acumen and cultural knowledge to each case they handle. Ms. Monagas-Symon is a fluent Spanish speaker, and possesses an understanding of Latino cultures having lived in Puerto Rico and Spain for most of her childhood and teenage years.
Ms. Sy, a native of the Philippines who is fluent in Filipino and conversant in Chinese, moved to the United States at the age of eight. "I experienced the immigration process first-hand, entering the U.S. as a child with limited knowledge of the English language and American culture," she said, "I entered law school knowing I wanted to help families establish fulfilling, productive lives here. Your case isn't just about you; it's about future generations of your family. An understanding of your culture means we reserve judgment, avoid dealing in absolutes, and are better equipped to explain your options in terms that you understand."
The duo's personal experiences with immigration matters span more than 20 years and multiple perspectives, and although they possess a variety of legal expertise, choose to devote their practice to Immigration Law to ensure clients receive exceptional guidance amid the changing legal landscape and immigration issues. Their combined understanding of Hispanic, Filipino, and Chinese cultures keep them attuned to the client, and able to anticipate difficulties clients may face. Services include, but are not limited to: Immigrant Visas, Consular Processing, Deportation Defense, Adjustment of Status, Non-Immigrant Visas, and Corporate Compliance.
The insights and direction provided by USA Immigration Legal Group extend beyond effective Immigration Law processes. "Building a life in the U.S. doesn't just happen once all of the legal documents are processed. Someone new to this country also needs assistance with day-to-day matters – healthcare, schools, housing – and we consider it our job to guide clients to other, non-legal social services if necessary. We bring our background and experiences to bear in every situation, and each circumstance is different," said Monagas-Symon.
While USA Immigration Legal Group is headquartered at 10679 Westview Parkway, Second Floor, in the Mira Mesa area of San Diego, the firm serves clients in all 50 states and around the world through the most up-to-date technology to stay connected to their clients no matter where they work or reside. Basic information on a variety of immigration matters can be found – in English and Spanish – at their official website: http://www.USAILG.com. Individuals and Corporations (employers) seeking Immigration Law services can reach Ms. Monagas-Symon and Ms. Sy for an initial free consultation via telephone at 1-800-840-3640 or email at info(at)usailg(dot)com.