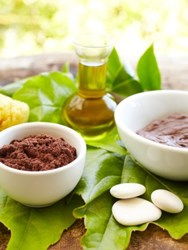 San Francisco, California (PRWEB) January 08, 2014
Ancient Tribes commonly prescribed special herbs and minerals to heal ailments of the skin and internal body. Clay is one of those special ingredients that have been highly regarded by homeopathic doctors to absorb toxins on the skin and inside the body. Zion Health's ClayMask is formulated to clear adult acne and waste build up while keeping the skin hydrated. Zion's ClayMask is now available at Whole Food Markets in Massachusetts.
ClayMask contains high grade calcium montmorillonite clay, long used by Native Americans as a purifying remedy to treat skin disorders. Calcium montmorillonite clay contains more than 60 trace minerals and is known to bind and absorb bacterial toxins. ClayMask contains additional herbs of chamomile and meadowsweet, formulated to help stimulate circulation and reduce skin irritation.
Zion Health is pleased that Whole Foods Markets in Massachusetts will now carry ClayMask Deep Pore Cleanser. Whole Foods Market is a leading grocer of the finest natural and organic foods and personal care products. With over 340 stores in North America and the United Kingdom, Whole Foods Market is committed to supporting organic agriculture from local producers and providing eco-conscious products.
ClayMask and Zion's organic skin care products are available online at http://www.adamaminerals.com and at health markets and co-ops throughout the United States and Canada. Zion Health provides its consumers with pure skin and body care products that are 100% vegan, free of parabens and aluminum and formulated using certified organic ingredients whenever possible. For online Wholesale orders visit http://www.orderdog.com or http://www.zionhealth.com.