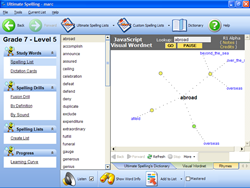 Teaching spelling should involve a wide range of activities and games to make sure learning takes place easily.
New York City, NY (PRWEB) January 08, 2014
Teachers and parents are always in search of new, exciting ways to make learning less tedious and more fun for the children in their care. Tim Weibel of Super Teacher Ideas knows how important it is to have access to good information on teaching methods, and he shares with Ultimate Spelling™ his own resources and approaches to teaching spelling. As he tells eReflect, all the resources and activities material on his website can be used in a variety of contexts, at home by homeschooling parents as well as in classroom settings. To ensure the validity and pertinence of the study material provided, the website uses real teachers' lesson ideas and activities, making them available for others to use for their own teaching purposes. With this discussion and announcement of the available spelling teaching resources on Weibel's website, eReflect hopes to help more people become efficient spellers.
Spelling holds a prominent place in the website's catalog of subjects and topics, showing how fundamental spelling literacy actually is. The spelling study category provides more than 100 different spelling activities, lesson plans, and game ideas. The wide variety of spelling activities available on the website make this an excellent and flexible resource. Teachers and homeschooling parents can get ideas and actual practice material with online and in-class spelling games they can use in order to make spelling a skill children will find interesting to learn. The website also offers practice materials in subjects such as math, science and social studies.
Teaching spelling should involve a wide range of activities and games to make sure learning takes place easily. Offering flashcards and lesson plans alone doesn't take into consideration that young spellers generally also want spelling games and fun activities to help them practice and review what they have learned; even more, those games encourage them to keep learning. For this reason, Weibel notes, the website strikes a balance between offering online spelling activities and interactive, hands-on games teachers can use in classrooms where technological equipment is either unavailable or not preferred. SuperTeacherIdeas.com is an example of how the Internet can be the go-to teaching aid for teachers and educators across the globe. Access to professionally created teaching material has never been easier and more widespread, something eReflect expects to have a greater impact on the number of people who master basic literacy skills now and in the future.
For more information about how Ultimate Spelling software can improve spelling performance for you and your family, please visit the official website at http://www.ultimatespelling.com.
About Ultimate Spelling™
Ultimate Spelling provides a modern and easy to use spelling software that has been designed with one goal in mind – making children want to learn.
It is a fast and easy way to master even the most complicated spelling, without the need to write long lists or complete boring tests.
In fact, Ultimate Spelling provides more than just spelling help. It is a complete educational resource that boosts all level of a child's literacy.
Containing a personal computer tutor, Ultimate Spelling is the most realistic step-by-step guide to flawless spelling ability.