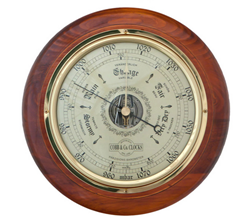 Quality Mechanisms For Maximum Accuracy
Melbourne, Australia (PRWEB) January 14, 2014
COBB & Co. Barometers are now available for direct purchase. With over 30 designs catalogued into six categories, barometers can be readily purchased at http://cobbco.co.uk/barometers.html.
COBB & Co. Clocks is the world's number one brand for quality wooden clocks, barometers and watches. Crafted entirely in Australia from solid plantation pine wood - the COBB & Co. Barometers are shaped and sanded to produce a beautiful finish in which wood grains are clearly visible through the protective varnish. The final piece is then encased in a bezel that is made from 100% solid brass for a lasting shiny finish.
Customers can choose from various styles such as round or stick barometers, weather stations, large barometers, banjo barometers or thermometer-type models. For quality mechanism and precise time-keeping accuracy, all COBB & Co. Barometer movements are created using a spring mechanism design, some of which were developed in-house by COBB & Co. A life-time warranty is provided for all COBB & Co. products.
Barometers can be purchased via the online store using the links provided to browse the extensive range of products. Alternatively customers can either choose to purchase from a local stockist or from an online retailer. Shipping is free with delivery times within 1-7 business days. For more information on other shipping options please visit http://cobbco.co.uk/shipping.
A barometer is an instrument used to measure atmospheric pressure. Its main use is to measure the actual changes in the pressure of the air (rising or falling pressure) at a particular place. The movements shown on the face of the barometer indicate the changes of pressure as they occur.
A rising barometer is indicative of fair conditions while a falling barometer is indicative of wet and stormy conditions. These changes when considered in conjunction with the wind, temperature, moisture and cloud patterns, can serve to provide indicative information on the approaching weather conditions.
For more information on the range, images and availability please visit the website at http://cobbco.co.uk/.
About COBB & Co. Clocks
COBB & Co. Clocks is a manufacturer of prestigious, reliable and high quality clocks, with headquarters in Melbourne, Australia. Their range includes wall clocks, barometers, personalized clocks, pendulum clocks, mantle clocks and many other timepieces.
Combining the conventional traditions of watchmaking and modern technology, COBB & Co. timepieces have clean lines, an elegant style that is inspired by nineteenth century Australia and an emphasis upon functionality and high standards of excellence.
All COBB & Co. timepieces are handcrafted in Australia using high quality materials and come with an unrivalled COBB & Co. lifetime guarantee. Solid plantation pine is used to house the timepieces and finished pieces are encased in solid brass bezel. For superior accuracy, all clocks are engineered by quartz mechanism which ensures the clocks will be accurate to within 10 seconds per year.
COBB & Co. Clocks
Phone: +613 9532 2955
Fax: +613 9532 2056
Email: sales(at)cobbcoclocks(dot)com