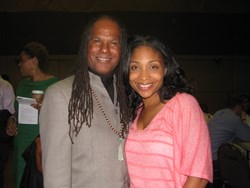 (PRWEB) January 07, 2014
Dr. Beckwith and Kuwana Haulsey are speaking at Barnes & Noble/Santa Monica on Thursday, January 16th at 7pm about Haulsey's new book, Everything I Needed to Know I Learned from My Six-Month-Old: Awakening to Unconditional Self-Love in Motherhood.
"Deeply illuminating, the book is a reminder of one's ability to become a more evolved and content being."
—Publishers Weekly
Everything I Needed to Know I Learned From My Six-Month-Old fuses memoir, spirituality and self-development, offering a unique perspective that babies are actually extraordinary spiritual teachers capable of showing their caregivers the way toward inspired living. Haulsey's book has the potential to speak directly to women everywhere who have struggled to reassess their identity, find balance and live richly—even in the midst of baby-induced chaos. For more information on the book, find the press resources here.
About the Author:
Kuwana Haulsey is the author of the critically acclaimed novels, Angel of Harlem and The Red Moon, which was a 2002 finalist for the Zora Neale Hurston/Richard Wright Legacy Award for Debut Fiction. Born and raised in New York City, she graduated with a bachelor's degree in journalism from Rutgers University magna cum laude and Phi Beta Kappa. Kuwana has led seminars for the PEN/Faulkner Foundation in Washington, D.C., and at Rutgers University. She's taught writing at UCLA and Agape International and is also an actress currently living in North Hollywood where she co-teaches classes on spirituality with Reverend Michael Beckwith.