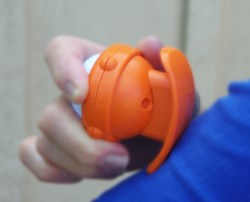 I love my Zippy.
Phoenix, AZ (PRWEB) January 08, 2014
Zing Partners LLC celebrates the second anniversary of the creation of the Zippy RBT Rolling Ball Therapy device for massage therapy. The prototype Zippy was created to meet the need of one kinesio-therapist to be able to use a golf ball for client massage without dropping it during a session or causing undue stressing his hands. From the first prototype to current production each Zippy device has worked to deliver the health and wellness benefits of golf ball massage.
Zing Partners LLC also remembers trainer, coach, and kinetic therapist, Britton Brown of Brightride Kinetics and coach, teacher, and therapist Danny Starkins for their contributions in field testing prototypes and production devices since December, 2011. Britton and Danny have influenced the development of all Zippy products and Zing Partners LLC is grateful for their talented guidance in developing the Zippy device family.
The Zippy future is bright with promise according to Zing Partners LLC as promotional orders are being received for 2014 sales, online orders are improving, and custom two and three Zippy device combinations are available for special order under the "Jimmy Zing" name tag.
Zippy Rolling Ball Therapy massage devices are available online, http://www.zippymassage.com and on Amazon. #ilovemyzippy
View our video http://youtu.be/Wkc61AfrhhQ. Visit Zippy RBT – Rolling Ball Therapy on Facebook. Follow @ZippyRBT on Twitter. Zippy Rolling Ball Therapy