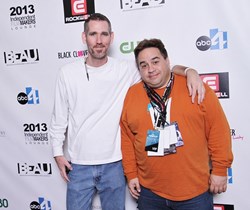 "Meet everyone...you never know the opportunity of a relationship until you ask." ~Daniel Thompson
Los Angeles, CA (PRWEB) January 07, 2014
For nearly a decade, Christopher Ryan's notorious Sundance "Party List" has been the single most sought after source for the Entertainment elite and partygoers worldwide. Christopher, creator of the coveted private master grid of Sundance events, has been featured in outlets such as The Wrap, Hollywood Reporter, Reuters, Variety, and Vanity Fair Magazine. 2014 marks a milestone moment for the "Party King of Sundance" and Oceanside Entertainment (OceansideENT.com) brand as a whole.
"The Party List" has officially partnered with the likes of Power & Industry (PowerandIndustry.com) and its owner, Daniel Thompson. "I am elated to have such a fabulous sponsor for The List during Sundance this year. Power & Industry supports Indie Films and the people that are making them. It's a perfect fit for our 2014 film festival Party List," recently stated Christopher. Christopher will continue to orchestrate his sacred list as usual, though the newly coined "Power & Industry Party List" will incorporate its own personality and industrious vision.
In the most unassuming way, these two names, Power & Industry and Daniel Thompson, have become key elements to one of the most influential film industry events in the United States. It is Daniel's fourth year as owner and host of Power & Industry's "Independent Film Makers Lounge". The many film executives, directors and decision makers who join with the A-List celebrities have made this their staple lounge because it's hospitable respite from the fast paced race that is Sundance Film Festival.
Sitting down with Daniel in his head offices, one would be hard pressed to discover the major empire he commands over many markets. Despite his many production companies, vast real estate holdings, and philanthropic charities, Daniel instantly makes one feel like family. Daniel Thompson may be best known in the entertainment industry for his highly successful Flip Men series on Spike TV, but now his credits will include this recent camaraderie with Oceanside Entertainment and the new "Power & Industry Party List".
For more information on Power & Industry, the Independent Film Makers Lounge, and the Daniel Thompson brand, please contact his publicity team at Jade Umbrella (JadeUmbrella.com).