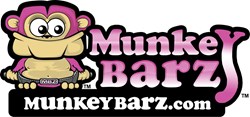 "It's Bananas"
Los Angeles (PRWEB) January 08, 2014
First, the company will be launching several new products in the coming months. New items include an eight-piece fetish kit, a line of high-heeled shoes, a clothing line, a new version of the Munkey Barz belt, the Biker Barz, complete with throttle control, and more.
MunkeyBarz will also be launching new website landing pages for 2014 Spring Break, the LGBT and the rapidly growing fetish market.
"Munkey Barz isn't just a belt anymore. Munkey Barz represents the next level of fun, sexy and unique lifestyle products. Everything you will see this year will be just as fun and unique as the MunkeyBarz belt itself, and we will spend this year catering to the ladies," said Mike Beadle, CEO of MunkeyBarz.
To make room for the new products, Munkey Barz plans to limit U.S. distribution of the original Munkey Barz belt to select distributors, beefing up their sales team and focusing more on selling direct in 2014. Munkey Barz will now offer the new fetish belt to U.S. distributors in place of the discontinued classic belt. The company also announced that Spencers has picked up the MunkeyBarz belt and will offer MunkeyBarz online very soon. MunkeyBarz also has a promo team in Europe and plans to aggressively build on it in the coming year with European distribution.
In the meantime, Munkey Barz has announced the Munkey Madness sale for the first 2014 new customers to the company. Just for the month of January, the company has listed all three colors and sizes of the classic belt on Amazon.com for only $60.
The new products will be showcased on the upcoming "Go Bananas" tour, which will hit three major events this spring.
The "Go Bananas" tour will Feb. 28 to March 28 with stops in Mardi Gras in New Orleans and Daytona Bike Week, but will spend most of the time in Panama City, Fla., as Official Sponsor of 2014 College Spring Break.
The first five days in New Orleans will see company representatives doing guerilla marketing on Bourbon Street, in the French Quarter and in Jackson Square.
The tour will then move on to Spring Break on March 6 where they will have a booth, roaming rights and VIP club perks for the entire month of March to promote and demo Munkey Barz with party goers.
During this time the company will send a promo crew to Daytona Bike Week, March 8-16, where Munkey Barz will also have a booth to work and promote the products to more than 600,000 motorcycle enthusiast in just 10 days, making their introduction to the motorcycle market in a major way.
The Bike Week crew will then return to Panama City to rejoin the Spring Break crew and will finish the last 10 days closing out the 2014 "Go Bananas" tour at Spring Break. This will be a marketing campaign geared for the mainstream and young adults. The company will conduct a casting call Jan. 25-26 to select the new 2014 Munkey model promo girls.
If your company or brand is interested in marketing to more than 1.5 million young consumers, become a sponsor of the 2014 MunkeyBarz "Go Bananas" tour. Send emails to sponsor(at)munkeybarz(dot)com or contact the Munkey Barz office at (855) MunkeyBarz (686-5392). Sponsorship levels start as low as $2,500, which includes press releases, logo placements, marketing material at all three events, sampling, gift bag insertions and more.
For more information, visit http://www.MunkeyBarz.com.