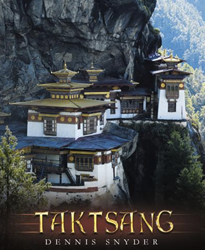 Snyder uses his vast background educating and practicing medicine in both top universities and more than 120 charity trips across the globe as inspiration
Boston (PRWEB) January 08, 2014
The practice of medicine and the art of healing are always evolving and progressing, but what can modern medicine learn now from ancient medicine?
Set in the mysterious and inspirational Bhutan, "Taktsang" follows the gripping story of a doctor's disappearance, unknown terrors and the secrets of a part of the world not known by many. The novel brings together the powers of ancient and modern medicine in a story of adventure and suspense.
Snyder uses his vast background educating and practicing medicine in both top universities and more than 120 charity trips across the globe as inspiration for his new novel. With more than 25 years in the field of medicine, his first-hand experiences in travel, healing and teaching combine for a unique and expert look at adventure, risk and personal connections.
"My inspiration for this novel stemmed from my own travels to the Taktsang Monastery and a desire that I had to share a story of the place that others couldn't tell," said Snyder. "That was when fiction met reality; I integrated the magic surrounding one of the holiest sites in the world and my medical and charity work background into an exciting and revealing narrative."
For more information, please visit bookstore.iuniverse.com.
"Taktsang"
By Dennis Snyder
Hardcover: $28.95
Paperback: $18.95
E-Book: $3.99
ISBN: 9781491701539
Available at bookstore.iuniverse.com, amazon.com and barnesandnoble.com
About the author
Dr. Dennis Snyder is an otolaryngologist/head and neck surgeon based in the greater Boston area. He is one of the founders of Medical Missions for Children, a volunteer organization that provides free surgical care to children with severe congenital deformities and burn injuries. Snyder uses his skills and knowledge to participate in medical and surgical charity missions in over 15 countries across the globe, which has allowed him to become intimately involved with a variety of cultures, medical practices and locations. For more information on his organization, visit http://www.mmfc.org.
# # #