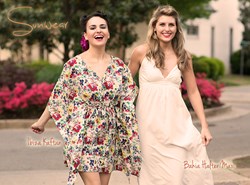 Wear Fluid apparel everywhere you please, and rest assured, you will turn heads every step of the way.
Galveston, TX (PRWEB) January 07, 2014
Fluid Sunwear opened their Amazon.com webstore offering ready-to-wear women's designer clothing. Their clothing line has soft, delicate silhouettes complementing the vintage inspired glamour of their made-to-measure swimwear line. Feminine and versatile, their sunwear is designed to take women from day to night, ship to shore with effortless grace and style.
Fluid's Amazon webstore sells their Ibiza kaftan which transitions beautifully from casual to chic with a pair of heels and chunky jewelry; a deep-vee halter maxi with a high-low skirt hem, showing just the right amount of leg and, rounding out their line of beautiful dresses, Fluid's Venice circle-skirt sundress with flirty cutout just below the breast, yet above the tummy, shows the sexiest part of a woman's belly.
Also offered is a pair of scalloped walking shorts perfectly paired with Fluid's silky boyfriend blouse and a tank top; their retro styled swing vest swimsuit coverup details a beautifully embroidered Mexican floral design and doubles as a shirt when belted at the waistline; and lastly an off-the-shoulder, three-quarter length t-shirt can be worn over a swimsuit or tanktop for the langen-look that has taken the west coast by storm.
Fluid always offers free shipping on items purchased via Amazon's site and from their web boutique found at http://www.fluidsunwear.com. Fluid's apparel comes in various sizes from 4-14 and is constructed with a curvier woman's shape in mind. To find the best fit, visit their size chart for proper sizing and tips when purchasing Fluid apparel.
Fluid's sunwear pairs well in any suitcase when escaping the arctic air; fitting in perfectly during a stroll on the promenade deck of a cruise ship, at a beach bar drinking mimosas at sunrise and for everyday living as the temperatures start to rise throughout the US.
Fluid is known for its Made-to-Measure swimwear line, offering every woman the opportunity of owning a swimsuit that fits their body perfectly, regardless of height, shape or size. Their sunwear compliments each retro styled swimsuit indulging every woman in style and grace due to the soft, lightweight fabrics and classic cuts.
"We are delighted to announce our Amazon webstore opening. Combining our current web boutique with the power of Amazon is a great opportunity and we hope to reach more women and help them to feel beautiful just the way they are," states Turnbow, President and CEO of Fluid Sunwear. "Wear Fluid apparel everywhere you please, and rest assured, you will turn heads every step of the way," she continues.
For more information please visit: http://www.fluidsunwear.com.
To view a videos about Fluid Sunwear and its mission visit http://www.fluidsunwear.com/fluidvision.
About Fluid Sunwear
Fluid Sunwear is a clothing line specializing in women's made-to-measure luxury swimwear and ready-to-wear designer sunwear. Fluid takes luxury swimwear to the next level offering women indulgent style, pure extravagance and timeless beauty, an experience not currently available through any other swimwear line. For more information, contact Fluid Sunwear via e-mail at info(at)fluidsunwear(dot)com, or telephone number: 409.974.7017.