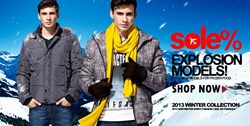 (PRWEB) January 11, 2014
Recently, Skmen.com, a one stop platform of various kinds of cell phone accessories, has announced a new collection of iPad mini leather cases. To top it all off, all these new and pretty cases are now offered at greatly discounted prices, up to 25% off.
According to the CEO of the company, Skmen.com intends to show its appreciation to all old and new customers throughout the world by launching the special offer. The company applies a strict quality control system from sourcing to delivery. Additionally, it has recently updated the website with the latest information about its products. All its online workers are kind and professional. It hopes to give every client a wonderful shopping experience.
"We are very excited to announce our brand new cases for iPad. Now, all current and prospective guests can view these beautiful items by colors at our website. If you are planning to buy cheap and beautiful cases online, please visit our website as soon as you can," he says.
In addition, the company has dedicated plenty of time to improving its designs and services. It wants to expand its global market by launching promotions. As a matter of fact, it has become one of the largest and most influential low-priced suppliers in the world.
About Skmen.com
Skmen.com, a China-based company founded in 2009, is one of the leading suppliers of men's and women's high quality clothes. Also, it offers pretty cell phone accessories. The company has more than 5000 customers from every part of the world, helping the people develop self-esteem, confidence and love of learning.
For more details, readers can visit http://www.skmen.com/product-ipad-mini-cases-010003.aspx.