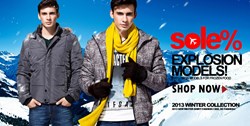 (PRWEB) January 13, 2014
Skmen.com is a reliable online supplier that has been offering high quality wedding dresses and women's special occasion outfits for more than 10 years. Recently, the company has proudly released its latest collection of clubwear dresses for women. In addition, all the beautiful outfits are provided at discounted prices, up to 45% off, before February 10, 2014.
The company's online shop now features a lot of discounted items, including wedding gowns, party dresses, men's hoodies, trench coats, fashion jeans and so on. All of them are offered at cost-effective prices. It is striving to deliver more benefits (high quality and competitive market pricing) to its clients from all over the world.
According to the CEO of the company, Skmen.com has rich experience in making wonderful outfits. With the purpose of helping worldwide ladies to be more elegant, it often announces new fashionable designs at its online store. Its top experts pay much attention to innovative techniques and customer satisfaction.
The company is now offering various kinds of clothes. It has more than five thousand international customers. At Skmen.com, customers don't have to pay a large amount of money to look nice. Those who have any questions are encouraged to reach out to its online workers.
About Skmen.com
Skmen.com, a China-based company founded in 2009, is one of the leading suppliers of men's and women's high quality clothes. It has more than 5000 customers from every part of the world, helping the people develop self-esteem, confidence and love of learning. For more detailed information about Skmen.com and its various kinds of clothes, readers can visit http://www.skmen.com/product-sexy-clubwear-dress-003004009.aspx.