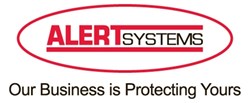 As a small to medium business owner, commercial security systems are an essential method of protecting your livelihood
(PRWEB UK) 8 January 2014
According to an article called 'Corby shop keeper's fury at third burglary in six months' in Northamptonshire Telegraph published on the 3rd of January, 2014, a Corby town centre shop keeper is furious following the third attack on his establishment in six months.
When the initial attack took place, the shop lost stock worth £10,000. The second time, thieves targeted cigarettes, alcohol and the cash float. Corby News owner, Sasi Kanthan then took action installing CCTV and sensor lights in his shop. When the third attack took place, the thieves were scared off by alarms before Police arrived.
A spokesperson from leading security systems company, AlertSystems, responded to the news by saying 'robberies are a very serious offence and it can be a terrifying experience for staff or a shop owner when a robbery takes place. It is important to protect both staff and inventory by fitting your premises with a CCTV security system to monitor events like these if they happen and have the ability to provide clear identifiable information of the culprit to hand over to the police.
'Mr. Kanthan took action by installing monitored alarm systems in his business property and was able to avoid substantial losses for a third time in six months, and whilst the threat may not be entirely gone, the security systems were enough to deter the offenders. As a small to medium business owner, commercial security systems are an essential method of protecting your livelihood.'
AlertSystems manage and maintain over 5000 security installations throughout the UK and are specialists in providing business security solutions. Offering professional service and a complete range of security services such as monitored alarm systems, Automatic Number Plate Recognition and Avigilon CCTV security systems. AlertSystems offers effective and reliable solutions to security problems.