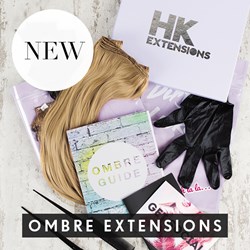 The Dirty Looks Ombre Hair Extensions Kit is one of the best ways to reinvent your look at get ombre hair this season. What's more, it's perfect for girls who love to experiment with different hair shades and their hair extensions.
California (PRWEB) January 08, 2014
Say hello to new hair by getting the ombre look, with the Dirty Looks Ombre Kit. The hair stockist for high quality hair extensions has added the most desired hair shade to its extensive hair extension range, with its very own kit on how to ombre hair extensions. The Ombre Kit includes everything a hair junkie needs to ombre their hair extensions, without the added commitment of dyeing their own locks.
As ready made ombre hair extensions don't tend to work very well, the Ombre Kit is the best and most successful way to dip-dye your hair extensions and achieve one of this year's most coveted hair shades. The fully equipped Ombre Kit comes with a set of hair extensions to dye, a tint brush, colouring gloves and a detailed guide on how to ombre your hair extensions. There are four shades of gorgeous blonde to choose from; Blogger Blonde, Santa Monica Sunrise, New York Editorial and Cherry Cola Melt ready to be dyed at the roots of the wefts to match the rest of your natural hair colour.
Dubbed as the 'tortoise hair shade', ombre hair was one of the most loved hair trends for 2013, with celebrities like Jessica Alba and Khloe Kardashian, all heralding the two-toned hair shade and making girls everywhere crave the dip-dyed look. However, 2014 is set to be an even bigger year for the hair trend as ombre hair is predicted to still be one of the most sought after hair shades for this year, too. That's why Dirty Looks has introduced its Ombre Kit at the right time; especially for girls who want to give ombre locks a try without having to dye their own growing hair.
If you'd like more information on the Dirty Looks Ombre Kit, please contact info(at)dirtylooks(dot)com or visit our website. For more information about Dirty Looks and the hair extensions/products it stocks, visit http://www.dirtylooks.com Alternatively, tweet the brand at @DTYLOOKS.