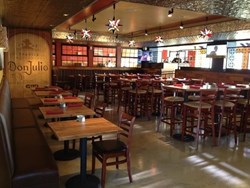 Manhattan Beach, CA (PRWEB) January 07, 2014
Leading commercial furniture distributor, Restaurant Furniture Supply recently helped Cantina Real, restaurant in Manhattan Beach, California successfully open their new location.
Cantina Real is a bar and Grill specializing in authentic Mexican cuisine. They recently expanded from their flagship location in Hermosa Beach and opened their second Southern California location in Manhattan Beach. Cantina Real has 8 HD TV large screen televisions where patrons can enjoy watching NFL and college football games.
In addition to cocktails such as mojitos, the bar offers margaritas, tequilas. They also have an extensive list of draft beers, imported Mexican beers, American beers, sangria and serve wine by the glass. They serve breakfast, lunch and dinner and have an extensive menu which includes Mexican classics such as tacos, burritos, enchiladas and sizzling fajitas. They also serve Mexican specialties such as Chicken Mole and Carmones Alla Vercruzana, in addition to burgers, appetizers and desserts.
"The owner contacted to Restaurant Furniture Supply for new restaurant booths and chairs because of their reputation for high quality at competitive prices," explained sales person Zach. "He decided to go with Restaurant Furniture Supply's Ladder Back Bar Stool in mahogany finish with American made padded vinyl seats."
The Ladder Back Bar Stools are currently on sale for $77. Customers can choose from 6 different finishes or have a custom finish made for an additional charge. Customers also have the choice of a solid wood seat or a padded seat made of vinyl or other fabric which can be custom upholstered. As with most of Restaurant Furniture Supply's products, the Ladder Back Bar Stools are made in the USA from wood responsibly harvested in the Midwest and certified by the FSC (Forest Stewardship Council).
"It's a favorite bar stool of restaurant owners nationwide. As a restaurant that experiences heavy customer traffic, the owner knew he would need a bar stool that would look great and would be durable and stand up to heavy usage," Zach remarked. All of Restaurant Furniture Supply's furniture is tested and certified by BIFMA, the Business Institutional Furniture Manufacturers Association. A matching Ladder Back Chair is available which is also very popular.
Browse Restaurant Furniture Supply's full selection of commercial grade chairs, bar stools, table tops, table bases, booths and patio furniture at http://www.restaurantfurnituresupply.com or talk to a customer service representative at (888) 346-9992
Cantina Real is located at 926 N. Sepulveda Blvd.in Manhattan Beach, CA. They can be contacted at (310) 376-8044.