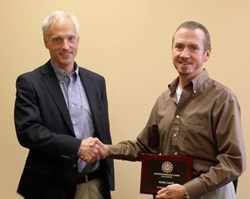 It's exciting to bring everyone together to recognize outstanding performance, discuss goals and share ideas.
Stevensville, MD (PRWEB) January 08, 2014
Michigan Manufacturing International (MMI), a leading broad line supplier of high-quality mechanical assemblies and components, presented employee service awards recently at its annual sales meeting.
MMI CEO Jacob Prak presented the MMI All Star Award to Andy Lamb (Northeast Territory, USA) and Peng Hong Mei (China) for outstanding performance. Both employees have demonstrated their commitment to MMI and were recognized for their exceptional efforts to ensure that customers receive the quality and service they deserve.
All of the MMI sales reps received plaques to commemorate their years of service.
The meeting also consisted of sales training modules conducted by Benchworks CEO Thad Bench.
Jacob Prak commented on the sales meeting, saying, "At MMI, we are very fortunate to have a team of seasoned sales professionals who are knowledgeable and resourceful, so that they are able to offer the very best solutions to our customers. Our reps are located throughout the United States and China, so it's exciting to bring everyone together to discuss goals and learn how we can perform even better in 2014."
Founded in 1991, Michigan Manufacturing International (MMI) specializes in supplying manufactured to print assemblies and components to original equipment manufacturers (OEM). Products include assemblies, castings, stampings, machined parts, gears, bearings and more. Services include product engineering, manufacturing, inventory management and stocking programs — all designed to streamline client operations and increase profitability. MMI designs the most effective, highest quality solutions from anywhere in the world.
For more information about MMI, visit http://www.michmfg.com or call 800-677-0504.