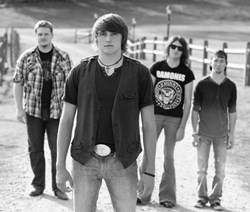 One to Watch and a Force to Be Reckoned With
Asheville, NC (PRWEB) January 08, 2014
Emerging Southern Country Rock artist Joe Lasher Jr announces the release of his debut album, "Devil in a Jar" set for independent release on February 1, 2014 at a special event to be held in Asheville, NC and via all major digital outlets, including iTunes, Amazon and Spotify.
The album features 11 songs including the title track, "Devil in a Jar," a driving tune with a low country, swamp bottom, Southern Rock feel. Other tracks include original songs like "Country As You" and "Red Wolf Run," songs that are inspired by the Appalachian mountains where Joe was raised. Joe collaborated with Nashville songwriters and North Carolina songwriters as well to release songs like "Hate Me Now," "How Is Beautiful" and the driving, harder edged song, "Hillbilly."
Preliminary reviews of this album have created quite the buzz. Nashville industry professionals have called the sound "fresh," complimenting their blend of classic Southern Rock, mainstream Country, and '90's Rock.
Stay connected with Joe and the band on Facebook and Twitter.
About Joe: Born and bred in the Western North Carolina mountains, 17-year-old Southern Country Rock singer/songwriter Joe Lasher Jr. is quickly gaining the attention of music lovers across the Southeast. Although he's young in age, his voice and musicianship are that of a seasoned veteran. Music industry professionals have called Joe "one to watch" and, with his band, "a force to be reckoned with."
About the band: The Joe Jr Band features young artists with the same passion for performance and mastery of their craft. Zach Haney, on lead guitar and backing vocals, has performed regionally for some time. This left-handed 20-year-old infuses a rock/blues edge into their progressive country rock blend. Jason Surrett, on bass guitar and backing vocals, solidifies the guitar line up and ties the front line together. Driving the tempo on drums is Indiana Native, Western NC resident, Will "The Animal" Beverly. Will's hard-hitting style yet masterful execution drives the Joe Jr. band to excellence and crowd-pleasing performances.