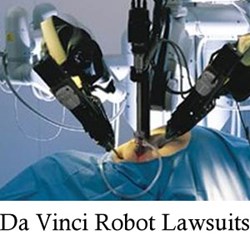 If you or a loved one have experienced complications from a Da Vinci robot surgery contact Wright & Schulte LLC, for a free case reivew at 1-800-399-0795 or visit www.yourlegalhelp.com
Columbus, OH (PRWEB) January 07, 2014
The Da Vinci robot lawsuit lawyers at Wright & Schulte LLC are disturbed by a new report from Bloomberg News that suggests some adverse events related to the Da Vinci Surgical System were not reported to the U.S. Food & Drug Administration (FDA) in a timely manner. According to a review conducted by the media outlet, many da Vinci complication reports found in the agency's database were only reported years after they occurred. Others that were alleged in da Vinci lawsuits or in patient interviews were missing entirely.
[bloomberg.com/news/2013-12-30/unreported-robot-
surgery-injuries-open-questions-for-fda.html; Bloomberg News, December 30, 2013]
According to Wright & Schulte LLC, the Bloomberg report is particularly disturbing, as adverse event monitoring by the FDA is often the only way problems with a medical device become apparent. As the article points out, new surgical technologies are often deployed across the country before they can be sufficiently studied to ensure safe use. The da Vinci robot, for example was only subjected to a single trial conducted in Mexico City that involved 233 patients before it was approved by the FDA. And while the robotic surgery platform is used in a wide variety of procedures, including hysterectomies, prostatectomies and heart valve surgeries, that trial only involved gall bladder and heart valve operations.
Bloomberg's new report is just the latest to raise questions about the safety and efficacy of the Da Vinci robot. On November 8th, for example, the FDA released results of a physician survey that ignited concerns about the adequacy of current Da Vinci robot training protocols and a need for a more standardized approach. That same month Bloomberg revealed that FDA adverse event reports related to the device had doubled in 2012.
[fda.gov/downloads/MedicalDevices/ProductsandMedicalProcedures/SurgeryandLifeSupport/ComputerAssistedRoboticSurgicalSystems/UCM374095.pdf, FDA, November 8, 2013]
[bloomberg.com/news/2013-11-11/robot-surgery-incidents-may-pressure-hospital-training.html, November 2013]
The previous month, Intuitive Surgical disclosed that it was facing at least 50 Da Vinci robot lawsuits filed on behalf of individuals who allegedly sustained serious injuries in robotic surgery procedures that utilized the Da Vinci Surgical System. According to a regulatory filing issued by the company, these lawsuits allege that patient injuries were either the result of inadequate training on the part of Intuitive, or defects in the technology.
[sec.gov/Archives/edgar/data/1035267/000103526713000040/isrg-2013930x10q.htm, Intuitive Surgical SEC Filing, October 18, 2013]
Wright & Schulte LLC expects that Bloomberg's new revelations regarding Da Vinci adverse event reports will only add to the controversy surrounding the technology. The Firm is now offering free legal evaluations to alleged victims of Da Vinci surgery complications, including tears and burns of the intestines, torn blood vessels, excessive bleeding, infections, punctured or cut ureters, damaged bowels, or vaginal cuff dehiscence. For more information on filing a Da Vinci surgical robot lawsuit, or to arrange for a free legal consultation, please visit yourlegalhelp.com.
About Wright & Schulte LLC
Wright & Schulte LLC, an experienced personal injury firm, is dedicated to the belief that America's legal system should work for the people. Every day, the attorneys of Wright & Schulte LLC stand up for the rights of people who have been injured or wronged and fight tirelessly to ensure that even the world's most powerful corporations take responsibility for their actions. If you're looking for a law firm that will guarantee the aggressive and personal representation you deserve, please do not hesitate to contact Wright & Schulte LLC today. Free case evaluations are available through yourlegalhelp.com or by calling 1-800-399-0795.
For additional information visit our website or like us on Facebook for all the current Da Vinci Robot lawuit news.
Contact:
Wright & Schulte LLC
812 East National Road
Vandalia, Ohio 45377
1-800-399-0795
http://www.yourlegalhelp.com