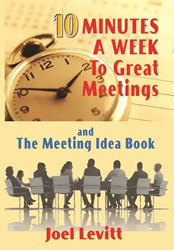 Philadelphia, PA (PRWEB) January 08, 2014
Author and trainer Joel Levitt, president of global management consulting firm Springfield Resources and author of 10 Minutes a Week to Great Meetings, provides four tips to increase meeting effectiveness when preparing for the meeting.
–
According to recent surveys, meetings are perceived by employees as one of the biggest time wasting tasks in the workplace. Factors like lack of preparation, the domination of a meeting by one person, and ineffective communication can force a meeting off the tracks and cause employees to lose interest, work on something else, or day dream.
These tips can help meeting leaders cut off potential time wasting activities and ensure that all attendees make the most of their time.
1. Prepare a checklist: Provide a meeting checklist and distribute it to everyone attending the meeting. This list should be short and easily completed, with 7-10 items on them. Things you may include are agendas, work that must be completed before the meeting, and materials or presentations that are needed.
2. Establish ground rules: Often meetings can lose focus, drift to off-topic discussions, or become heated. By establishing ground rules, meeting leaders have set a list of guidelines that employees have agreed to by attending the meeting. Of course, the rules for a PTA meeting may vary wildly from the rules for a party planning committee. Meeting leaders may want to review ground rules a few times until everyone is familiar with the rules.
3. Build an agenda: Planning ahead of time will dramatically cut wasted time and energy once the meeting begins. Spontaneous meetings of more than two people are often futile, while well planned meetings can go much smoother. Agendas can include attendees, locations (and phone numbers if the meeting is on a conference call), topics to be covered, and materials that will be presented.
4. Define the desired outcomes: Establish a specific, measurable goal you hope to accomplish with your meeting. Even if it is a brainstorming meeting, a valid goal is to have five realistic, viable ideas to work on at the end. Too often, meetings without clear goals get sidetracked into menial discussions. Meeting leaders can reiterate the goals throughout the meeting if need be.
Joel Levitt's book and educational program, 10 Minutes a Week to Great Meetings, is filled with valuable advice, like these tips, for maximizing meeting effectiveness and reducing time wasted. Levitt's Meeting Defender software helps track meeting costs in real time to help determine how much money companies are spending on meeting time.
About Joel Levitt
The author, Joel Levitt, is president of Springfield Resources, a global management consulting firm. He has written 10 other books on management and over 125 articles. He has trained over 17,000 managers in 500+ sessions in 21 countries. His clients range from GE to Mercedes Benz and from Abu Dhabi Oil Company to Newcrest Mining.
The ideas for this book were developed over the last 20 years of trainings where meetings were mission critical for such events as refinery start-ups or power plant outages. The ideas taught for these critical meetings were extended and adapted for general business.
Visit http://www.MeetingDefender.com for details on the 10 Minutes a Week to Great Meetings program.
Founded in 1980, Springfield Resources provides advice to large firms and governments about the management of physical assets.