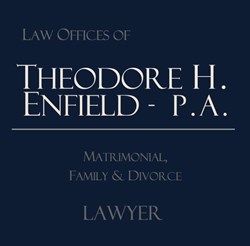 Miami, FL (PRWEB) January 09, 2014
When two parents get divorced, the fate of their children must be decided—and usually, the only neutral and fair way to do so is through the court system. Legal divorce is useful for not only separating assets, but also for deciding the custody of children—possibly the most serious issue faced by divorcing couples.
Theodore Enfield, a Florida divorce attorney, now provides legal counsel to parents wishing to establish custody and ensured protection of their children during a divorce proceeding. Courts consider the well-being of children first, and arguments of parents second. If one parent is awarded sole custody of a child, it is that parent's responsibility to make sure that the child gets the best possible health care, education, and upbringing possible. That parent, the sole custody holder, makes the most significant decisions of the child's life.
In many cases, the parents agree to share custody, ensuring that their children can see both parents equally, as desired. The ultimate goal of a custody case is to ensure that the children are provided for as best as possible despite the inevitably painful divorce their parents are going through.
Florida alimony laws are also a factor that Theodore Enfield considers in cases like these. Alimony is income that is transferred from one parent to another in payment of family support, and is taxable by law. Family law attorney Theodore Enfield is experienced with dealing with a wide range of alimony negotiations, from temporary modifications to reductions of alimony. He is also experienced with custody and family negotiations, and is able to negotiate the most beneficial position possible for clients undergoing divorce.
As divorce lawyers go, Theodore Enfield provides assurance, goodwill, and calm counsel for anyone seeking a professional to represent them.
The following are some, but not all, of the most important factors Florida courts consider in making a decision on a child custody case: the ethics of the parents; the health, both mental and physical, of the parents; the child's records and reputations in school, at home, and elsewhere; the preferences of the child; whether the child is intelligent, understanding, and experienced enough to have a valid preference; any abuse, whether physical, emotional, sexual or otherwise, even neglect (regardless of whether or not a case regarding those circumstances has ever been brought forward).
For a free consultation with a Miami divorce attorney Please call 305-933-9592 or 1(800) 733-5299 or complete a contact form at - theodoreenfield.com.