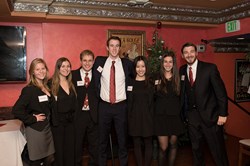 We wanted to better understand what the approximately 80 million web-savvy individuals who make up the so-called Mellennial Generation thing about U.S. cranberries. ~ Scott J. Soares, Executive Director, CMC
Wareham, Massachusetts (PRWEB) January 08, 2014
How do you increase demand for U.S. cranberries with the 18- to 34-year-old Millennial Generation? This was the real business challenge about which undergraduate business students at The George Washington University (GWU) were asked to shed light.
"As a natural progression of our work to increase cranberry consumption in schools, we also wanted to better understand what the approximately 80 million web-savvy individuals who make up the so-called Millennial Generation think about U.S. cranberries," said Scott J. Soares, Executive Director, CMC. "The GWU teams certainly didn't disappoint and we were extremely impressed by the professionalism and powerful ideas that each team put forth."
Divided into six teams, 40 business students were given a hypothetical budget of $50,000 to spend on what they felt would be the most engaging advertising and marketing campaigns aimed at 18- to 34-year-olds. They were also tasked to provide a plan extension that would increase the budget to $100,000. Students spent their semester conducting research and focus groups before presenting their findings to ten cranberry and marketing industry expert judges.
A predicted snowstorm on December 10th did not stop students or judges from attending the five-hour presentation where teams Advency, Edge Media, JamSail, Lincoln Agency, Madmen, and Mad Ox pitched their campaigns. Their combined research and interviews revealed interesting millennial trends:

60% of males and 61% of females enjoy cooking
75% have a social media profile
Social media platforms are used to share eating experiences
More are receptive to recommendations from their friends than from traditional media when it comes to decisions about food
Millennials like to experiment with food to make it uniquely theirs
Many are not aware of the many different uses of cranberries but are receptive to trying new things
Of those who knew little about different cranberry applications, all had a positive response upon tasting cranberries
Said Dr. Enrique E. Figueroa, Ph.D., Associate Professor & Director Roberto Hernandez Center and Assistant to the Provost for Latino Affairs at The University of Wisconsin, "The GWU students that participated in our `contest' not only provided a valuable inspiration and professional service to our CMC, but they also reminded me how college students rise to a challenge. For all of them, this will prove to be a rewarding and memorable experience. And, over their lifetime, they will consume more cranberry products than the average person!"
The teams introduced positioning statements targeted at unique segments of the Millennial Generation. Segments included the Food E-Vangelist, Young Professionals, Wannabes (persons who like the perception of being healthy more than actually choosing a healthy lifestyle), Health Guru, Multi-Tasking Modernists, Self Starters, Hip-ennials, Unique Yuppies, and Mover/ Shakers.
"The GW student teams did their research and presented marketing plans with creative and compelling ideas for increasing the use of cranberries with this key target audience," said Louise Pollock, president of Pollock Communications.
Marketing and advertising ideas ranged from social media to more traditional campaigns. Creative in-store advertising; strategic partnerships, a multi-state touring Cranberry Carnival; Cranberry Food Trucks; "Cranbassador" info sessions and cooking classes; a Cross Cran-try Bus Tour; Cranboxing; a Cran-bubbler; Give-away Contests; Banner Ads, College Posters, and in-store food sampling. Perhaps not surprisingly and in recognition of Millennials as "the Smart Phone" generation, all teams placed strong emphasis on social media platforms such as Facebook, Twitter, Pinterest, YouTube, FoodGawker, and Instagram. Some of the hashtags developed were #CranberriesAND, #YesYouCran, #SurpriseYourSenses, and #ICran.
Team Advency, the winners of the competition, introduced judges to "Jane Berry", a YOung PROfesssional (YOPRO) ranging from 22-29 years old and to whom Advency targeted their campaign ideas. Advency conducted three separate focus groups, a 219-person survey, secondary research and in-depth interviews with dieticians and cranberry growers. Results revealed that the focus should be on taste, diversity, and importantly educating consumers about the culinary versatility of cranberries. With the position statement: "The only berry that turns a health conscious consumer into a diverse chef," the team focused on social media, a monthly Instagram competition, and a YouTube channel devoted to how-to cranberry recipes. Included in their campaign were non-social media events such as self-guided kiosks, floor talkers, and recipe samples.
The winners received Amex gift cards and an invitation to visit a cranberry harvest in 2014. Highlight photos from the event can be found here.
"Advency is thankful to the Cranberry Marketing Committee for giving us such a great opportunity and putting together a wonderful event. After months of research and planning, we believe we created a campaign that will help the CMC make cranberries a year round fruit. Our team is really proud of our hard work and we learned a lot from this project. We now love cranberries and are including it in our everyday meals," said Advency team member Michael DiLuca.
Professor Lynda Maddox, who has led similar courses for the past 20 years is a strong advocate that mentoring students through real-life business challenges is the best way to preparing future business professionals for the real world.
"Students are transformed into professionals as they apply classroom concepts to the real world. They have the opportunity to present their ideas and get feedback from industry leaders. The CMC gets an inside perspective on marketing to millennials. It's a win/win scenario."
Added Soares, "In addition to valuable insights that will help shape cranberry promotional activities, we also now have forty extremely talented Millennials who have become life-long cran-vangelists for our favorite North American berry."
About The Cranberry Marketing Committee (CMC)
The CMC was established as a Federal Marketing Order in 1962 to ensure a stable, orderly supply of good quality product. Authority for its actions are provided under Chapter IX, Title 7, Code of Federal Regulations, referred to as the Federal Cranberry Marketing Order, which is part of the Agricultural Marketing Agreement Act of 1937, as amended. This Act specifies cranberries as a commodity that may be covered, regulations that may be issued, guidelines for administering the programs, and privileges and limitations granted by Congress. For more information about the CMC, visit uscranberries.com or follow @uscranberries and Cranberry Cravers on Facebook.