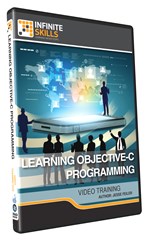 Learn Objective-C Programming at your own pace.
(PRWEB) January 07, 2014
Software training firm Infinite Skills Inc. this week introduced its "Learning Objective-C Programming," an introductory course providing an overview of the programming language used in app development for Apple's iOS 7, along with a guide to using its essential elements.
Objective-C is a programming language developed in the 1980s designed to integrate objects into the widely used C language with a minimum amount of changes to the core language. Objective-C is tightly integrated with XCode and other frameworks to facilitate the inclusion of messaging and other elements common to modern programming in app development for Apple's iOS 7.
Infinite Skills' "Learning Objective-C Programming" provides a guided introduction to the role of this language in creating iOS apps, teaching developers the essential elements of the language and the basics of its interaction with other frameworks in the development process.
Learning Objective-C Programming Tutorial - Video Training
Course author Jesse Feiler is a software developer, web designer, trainer, and author. He has been working with Apple technology for more than a decade. He has a robust list of training titles to his credit, including Get Rich with Apps!: Your Guide to Reaching More Customers and Making Money Now (McGraw-Hill), and iWork '09 for Dummies (Wiley). In addition to authoring training books, Feiler provides consulting services to small businesses and non-profit organizations
Here, Feiler begins with an introduction to using XCode, explaining the workspace, navigation, and the utility area, before explaining the basics of editing code.
The next chapter provides an overview of Objective-C, explaining its overall purpose, how it uses class hierarchy, sending messages, and working with properties and declarations.
Feiler then explains how Objective-C works within the overall structure of an iOS app, exploring the role of "Main" and how it works, and diving into the interface, creation, and use of a class.
Other chapters look at declared properties and instance variables, memory management, in-depth with class creation, debugging, working with protocols and delegates, using class extensions, and several more critical Objective-C concepts.
As Feiler explains, "Objective-C gives the impression that you have to learn everything to learn anything, and that really isn't true. What I'm going to do is walk you through objective C and allow you to begin using it."
"Apple was very adamant in releasing iOS 7 that they wanted the operating system to get out of the way and allow the content to be dominant. That really describes what we want to do here, to allow you to bring you expertise, whether it be in cooking or in game development, or whatever the content of your app might be, and integrate that with the XCode environment."
Free demo videos and a full list of course contents can be found on the Learning Objective-C page of the Infinite Skills website:
http://www.infiniteskills.com/training/learning-objective-c-2014.html
Infinite Skills offers its Learning Objective-C Training Video in DVD format, as a direct download at a retail price of $99.95, or as part of its $25 monthly subscription. Though the compatibility of programs varies, all Infinite Skills titles and formats are compatible with both Mac and Windows operating systems, and shipping is available around the globe. Additionally, Infinite Skills tutorials are supported by project files which correspond to examples in the videos.
About Infinite Skills Inc.
A leader in the field of software training, Infinite Skills designs its courses on a task-oriented model, teaching complex skills by providing hands-on examples and guiding users as they carry out essential functions. Infinite Skills offers a wide range of software titles available as DVDs, digital downloads, and in iPad editions. Infinite Skills now offers a subscription service, providing access to all its training content for a monthly fee, keeping with company's aim of delivering professional training to customers anywhere they want to learn.