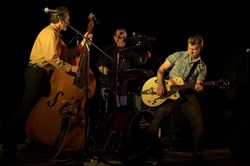 (PRWEB) January 08, 2014
Friday Night (7:00 pm) guests will enjoy a night of dancing with "Swing Shift" who delights in music from the Great American Songbook. Tunes we know and love come to life with this easy-going jazz trio – featuring Dave Gannet on bass, Bill Sargent on drums and lush jazz stylings by Tewanta.
Saturday Night (7:00 pm) is a Sock Hop with music by The Fast Clydes. The Fast Clydes play rockabilly in a sharp-edged traditional style — a style that combines driving, danceable rhythms and was made popular by such artists as Carl Perkins, Johnny Burnette, Gene Vincent, Wanda Jackson and a young Elvis Presley. The Fast Clydes performances, with Dan Caraway on Bass Fiddle, Curt Lichter on Drums and Jay Jubeck on Guitar, are frequently attended by dancers of all ages. These three friends come from wildly different backgrounds, yet share a love of the raw, raucous and rockin' sounds that propel rockability music. Highlights for Saturday evening will be the Limbo contest, 50's costume contest, hoola hoop contest, prize drawings, food, craft beer and lots of dancing.
Dance Workshops are schedule throughout Saturday. Each class is taught by a professional dance instructor and includes a free Sock Hop Ticket for those registering for a class in advance.
Adam Kieffer is a certified professional dance competitor and instructor by the National Dance Council of America. He has taught ballroom dance lessons to students of all ages and levels for over a decade. After teaching dance for several years on the east coast, Adam has brought his love of dance back with him to the Midwest.
Jennifer Mulcahey is a professional ballroom dance instructor with 20 years of experience and has had The Ballroom by Jennifer Dance Studio in Dubuque, Iowa for the past 4 years. Her unique and enthusiastic style of teaching makes learning how to dance fun, quick and easy for individuals and couples of all ages. Jennifer teaches in a way which breaks down the fundamentals in order to build strong technique, variation, styling and floor craft.
Tom Choudoir has been teaching ballroom dance for more than 30 years, enjoying a career that has taken him to the San Francisco Bay area for ten years and back to Wisconsin. For nearly 20 years he has owned and operated Dancesport of Madison in Madison Wisconsin. Through the University of Wisconsin Amateur Ballroom Dance club and Mini courses Tom has been teaching on campus at UW Madison since 1996, and has been on faculty at Edgewood high school since 1999.
Available classes are Beginner Swing/Jitterbug, Intermediate/Advanced Jitterbug, Beginner Lindy Hop, Intermediate/Advanced Lindy Hop. For a list of class times, online registration and additional information please go to http://www.galenaswingdance.com/ or call Kathy Cameron 815-275-523.