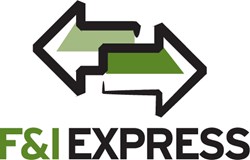 We are excited about being a part of the F&I Express platform.... It's a win-win for dealerships and customers!
Southlake,TX (PRWEB) January 08, 2014
F&I Express http://www.fandiexpress.com is pleased to announce the integration of Omnisure for the financing of premiums of aftermarket F&I products sold by dealers.
Omnisure not only provides financing for vehicle service contracts but for other aftermarket products as well, with some of the lowest rates plus expedited funding. The integration with F&I Express now allows Omnisure dealers to electronically rate, contract, and register their aftermarket products as well as allow for the online preparation of Omnisure finance contracts.
"Omnisure, who has been in business for over twenty years, and has specialized in the financing of premiums of aftermarket products, is a great addition to the F&I Express platform," said Brian Reed, President and CEO of Intersection Technologies Inc – F&I Express. "Dealers today are always looking for new options to finance the premiums of aftermarket F&I products as well as an easy, no-hassle way to electronically prepare the products and finance the contract."
"We are excited about being a part of the F&I Express platform. This new technology coupled with the ability to finance vehicle service contracts with Omnisure will allow dealerships across the country to increase sales and operate more efficiently than in the past. It's a win-win for dealerships and customers!" said Sandy Gordon, Sr. Vice President at Omnisure.
About F&I Express
Intersection Technologies Inc, parent company of F&I Express, was founded in 2008 to bring innovative solutions to the automotive industry. F&I Express focuses on combining cutting-edge technology products with tailored consulting to resolve challenges for customers all across the aftermarket F&I product segment – for administrators, agents, agencies, dealers, and lenders.
With business increasingly being conducted electronically, companies' processes are expected to move progressively faster. F&I Express is positioning customers ahead of the curve by leading them away from time-consuming, error-prone paper forms to their customized, streamlined eContracting platform. Other innovative products include ExpressRecoveriesSM, a system for faster rebate recoveries with more rebates paid; ExpressTabletSM, a complete mobile office to sell more on the road; and ExpressSignature, a tool for even quicker eContract submittals and processing.
F&I Express was the winner of the Agent Summit 2013 Provider Innovator of the Year award for its automotive sales ExpressTablet iPad® application for agents and providers.
About Omnisure
Omnisure Group, LLC is a specialty finance company and payment plan provider focused in financing automobile and home service contracts. The company's management has more than 20 years' experience in the service contract finance industry – they are industry pioneers, having owned and operated one of the country's first service contract finance companies.
Omnisure has been built on a foundation of highly personalized client service. With decades of industry experience, Omnisure knows, better than any competitors, how its clients operate. Having this insider knowledge helps Omnisure structure business to focus entirely on serving the needs of individual clients, delivering high-quality products, competitive pricing and bend-over-backwards service.
Omnisure's management team is committed to developing innovative payment plans. We've learned firsthand what's most important to our clients, and we've established many valuable partnerships. While we are proud of our past, we are even more energized about the future of Omnisure, and excited to help our clients achieve success.
Our clients count on us as their trusted advisor to help them navigate through the complexities of the service contract industry. Dealers and agents that are interested in Omnisure can contact Sandy Gordon at 215-850-6298.