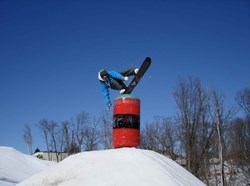 Galena, IL (PRWEB) January 16, 2014
For many, when the snow falls it becomes a time to hibernate and nestle in, hiding until spring makes its debut. One might think this would be the case in the picturesque, straight-out-of-a-Norman-Rockwell-painting Galena, Illinois. Not so.
With the white fluffy blanket comes adventure, in all forms.
And if Mother Nature doesn't make snow, certainly Chestnut Mountain Resort will. Thrill seekers flock to "The Nut"—which was recently voted #1 best Midwest park by a recent poll in Transworld Snowboarding Magazine—to ski and snowboard. Specials and events can be found at http://www.chestnutmtn.com. New this year: the New Belgium Brewing Scavenger Hunt where participants can ski wearing a costume, chase chickens, search for Bigfoot and answer ridiculous riddles all while skiing. And the best part is that while everyone has fun, the money raised supports a local charity: the Jo Daviess Conservation Foundation.
Guests may also go to the snow covered mountain to enjoy our choice of fine or casual dining and the breathtaking view overlooking the Mississippi River.
More adventure? Ever gone skijoring with a pooch? This is a fun kind of workout. A dog pulls you on skis and everyone has a great time. Fever River Outfitters offers a free demo, ski rentals and for-sale harnesses for your furry friend.
Again, for those who prefer a quieter outing, there are also twilight snowshoe hikes along the Mississippi River Bluffs or through one of the local vineyards. Wine tasting included, of course. Or perhaps a romantic horse-drawn sleigh ride through the scenic countryside is more your style. Make your reservations online at http://www.feverriveroutfitters.com.
Galena also offers what Galena is known best for: romance, respite, shopping, spas and amazing food. Lodging—from luxury resort to quaint B&B—are ready to roll out the red carpet to cater to your every whim.
Newly opened this year: Blaum Bros. Distilling, specializing in craft vodka, gin and a moonshine product with whiskey production in the future. Be sure to stop in for a tour of their artfully renovated facility including a store and comfy lounge, enjoy a tasting and meet the brothers who are making this all happen.
For more fun and upcoming events, be sure to visit VisitGalena.org and "Let us guide you."