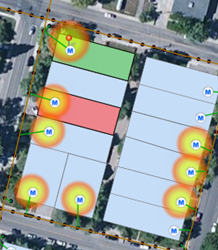 Durango, CO (PRWEB) January 08, 2014
Data West Utility Technologies knows that Utilities and Natural Resources companies have some very specialized needs for Geographical Information Systems (GIS). Typically these businesses must build / maintain a complete inventory of physical assets, plan for future growth, and solve problems via more meaningful, visual access to data. But finding the right team to do this can be difficult.
To meet these needs, Data West's new Geospatial Services Department now presents free monthly webinars demoing its products, and offers participants the opportunity to talk one-on-one with expert geospatial services consultants about GIS strategies. Registration for the February 12 Geospatial Webinar is available online.
The Data West geospatial team offers products and services that enhance a company's existing GIS. If the company has no GIS, Data West's geospatial experts will manage and actively participate in creating one.
Products include:

BillMaster Viewer, a real-time web-based map and data viewer that integrates BillMaster® data into Esri ArcGIS for Server. This allows utilities to see the billing data of their choice – such as consumption, service orders, or calculated fields – on a single map along with data from sources such as county maps, aerial views, AMI/AMR, SCADA, etc.
GIS Viewer API provides real-time access to BillMaster billing data to existing viewers.
Consulting Services include:

Field inventory. Either conduct field inventories, or advise on optimizing strategy and specific data to collect.
Conversions. Bring existing data into a GIS from a variety of formats and media via digitizing paper records, importing AutoCAD files, and geocoding from street addresses.
Quality Control. Audit and clean GIS data to make it robust.
GIS Department set-up and Training in GIS operations.
Project Management.
Upgrading Garmin builds. Show assets on Garmin GPS units. Keep them current with quarterly updates, as part of a yearly subscription.
Geospatial Services Manager Joseph M. Grzyb has over 10 years in geospatial services, working primarily in the natural resource and utility industries. He has managed field crews across the contiguous United States, mapping electric and municipal assets using survey-grade GPS units and terrestrial LiDAR vehicles. To augment his extensive experience in data analysis and onsite client training in GIS / GPS technology, he continuously researches new mapping methods. He earned a B.S. in Earth Science , focusing on Geography and Cartography, from Montana State University.
About the Company
Data West Corporation was founded in 1975 as a service bureau serving the billing and customer information needs of the utility industry. In 2013, the company changed its name to Data West Utility Technologies and expanded its scope. It recruited and hired expert staff in geospatial services and geographical information systems, and devoted significant resources to developing high quality mapping products which could be fully integrated with its billing products. The company's web site is http://www.dwcorp.com.