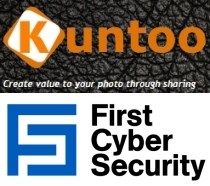 "The TSB grant has allowed us to engage First Cyber Security. Their help, advice and support have ensured our initial implementation has gone from strength to strength."
Woking, UK (PRWEB UK) 9 January 2014
After being awarded a Technology Strategy Board (TSB) grant, Kuntoo Ltd, developers of a new social media site, engaged First Cyber Security to advise on web security, on-line advertising, and to implement First Cyber Security's S.O.L.I.D. Authentication® to help authenticate and protect the new web site.
"First Cyber Security is delighted to have been chosen by Kuntoo to implement our authentication technology and advise on web security. Kuntoo has a new slant on combining social media with high quality photography and we wish them great success in this exciting venture," said Rod Pugh of First Cyber Security.
"Kuntoo is continuing to develop the functionality of our web site. We are delighted by the quality of the pictures being uploaded and the reactions they are receiving," said Kuntoo founder Godfried Williams.
"The TSB grant has allowed us to engage First Cyber Security. Their help, advice and support have ensured our initial implementation has gone from strength to strength," added Godfried.
About the Technology Strategy Board
The Technology Strategy Board is the UK's innovation agency. Its goal is to accelerate economic growth by stimulating and supporting business-led innovation. Sponsored by the Department for Business, Innovation and Skills (BIS), the Technology Strategy Board brings together business, research and the public sector, supporting and accelerating the development of innovative products and services to meet market needs, tackle major social challenges and help build the future economy. For more information, please visit http://www.innovateuk.org.
About First Cyber Security Limited
First Cyber Security is a UK based company who has a suite of security solutions with their S.O.L.I.D. Authentication® products. (Secure OnLine IDentification). Its base product SOLID WEB™ allows users to positively validate websites and protects them against fraudulent ones. SOLID WEB™ is significantly quicker than existing mechanisms for protecting against fraud by protecting sites in under 30 minutes.
SOLID BRAND™ protects brands against illegal use of their logos and trademarks, reducing sales of counterfeit products and protecting their brand. The Interactive Media in Retail Group (IMRG) use this technology to protect over 1100 web sites displaying their 'Internet Shopping Is Safe' logo.
SOLID RTI™ gives real time protection and alerts to on-line frauds while in progress allowing immediate action to be taken significantly reducing the window of opportunity for the fraudster.
About Kuntoo Limited
Kuntoo Limited is a UK based start-up company located in Dartford, Kent. Kuntoo's maiden social media site KUNTOO.COM, shares unique photo scenery for nature, architecture, sculptor, fine arts and culture around the world, which includes editorial and discussions based on the photos. It is not therefore just a list of photos, but a social networking interface around the photos. The service is free to browse but to upload your own photos you need to register first as a member. It enables users to share images of landscapes, natural views and manmade tourist, holiday attractions and fashion across different cultural settings. It also serves as a guide to tourists and provides a virtual experience of great places around the world.
For further details, please visit http://www.kuntoo.com/about or http://www.firstcybersecurity.com;
or contact Ore Bammeke for Kuntoo at info(at)kuntoo(dot)com;
or contact Rod Pugh for First Cyber Security at info(at)firstcybersecurity(dot)com.