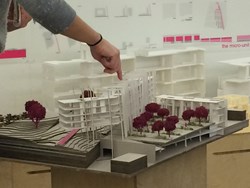 "The work that the students are doing in this studio is incredibly important, and could revolutionize the housing industry." Ron Barth, co-founder of Resource Furniture.
New York, NY (PRWEB) January 07, 2014
Students in Georgia Tech's School of Architecture will be researching zero-energy design concepts in their Zero Energy Design Housing Studio over the next year thanks to a gift from Resource Furniture and funding by Alcoa Foundation and Architecture for Humanity.
The interdisciplinary seminar and studio will explore the development of well-designed, ultra-low energy, cost effective, urban housing by researching energy and design, material and spatial innovation, interior design/function and community design. Students majoring in architecture, high performance building, and engineering will work together to research and, ultimately, fully design, engineer and build a four- to ten-unit net zero energy house prototype that will become a living laboratory for ultra-low energy efficiency testing and other related research.
"Cities are once again becoming popular places to live," said Michael Gamble, associate professor and principal investigator on the project. "Because of this, and since the demand for affordable, energy efficient housing outpaces the supply, it is imperative that we work to develop cutting-edge housing and demographic research, new design proposals, and pragmatic policy recommendations that expand housing options. Thanks to the Alcoa Foundation, Architecture for Humanity, and Resource Furniture, we'll be able to make significant headway in that direction."
This funding from Resource Furniture is the latest in their ongoing commitment to sponsoring and promoting non-profit and educational organizations, events and programs. The most recent sponsorships include the Making Room: New Models for Housing New Yorkers exhibition at the Museum of the City of New York as well as one third of the solar-powered homes that competed in the 2013 U.S. Department of Energy's Solar Decathlon.
The gift from Resource Furniture will facilitate the students' investigation of net-zero energy housing with a specific focus on interior design, function and space efficiency. The funds will contribute to providing guest speakers, seminars, studio materials, and other support throughout the academic year. At the end of the spring semester, each team will submit a final residential interior design, which will incorporate the demographic research and efficient design principles discussed throughout the year. These designs will be entered into a competition to be judged by a panel of representatives from a wide range of affiliated disciplines, including architects, interior designers, developers, researchers and editors. The winning design will be announced and showcased at Dwell on Design: June 20-22 2014, at the Los Angeles Convention Center. In addition to the interior design competition, some of the student teams will also design multifunctional furniture, which will be entered into a second juried competition to be judged over the summer.
"The work that the students are doing in this studio is incredibly important, and could revolutionize the housing industry," said Ron Barth, co-founder of Resource Furniture. "Not only do we see the increasingly important role that energy and space efficiency is playing in housing, but this program is also perfectly aligned with our values. We are especially excited to host the two competitions and introduce the design concepts from these multi-talented future architects, engineers and builders to the public at Dwell on Design in June".
From start to finish the project will be three years, with an additional five years of testing after completion. For ongoing information about the project, visit http://www.zedhstudio.com.
About Resource Furniture
For more than 14 years, Resource Furniture has offered the most inspired and innovative furniture solutions available in the world. With a commitment to providing support and sponsorships of game-changing non-profit and educational initiatives, Resource Furniture is redefining the way consumers and designers think about space, and is now the largest and most comprehensive source for cutting-edge, multi-functional living systems in North America. Showrooms in New York, Los Angeles, Toronto, Vancouver, Calgary, and Mexico City.