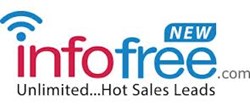 Omaha, NE (PRWEB) January 08, 2014
The premier provider of sales leads, mailing lists and email lists, Infofree.com has announced the release of its newest feature: unlimited background searches. Subscribers of infofree.com can search by person or property to find the precise information they need on over 200 million residents in the U.S. The background search feature organizes information based on:
•Name
•Marital Status
•Current Address
•Previous Address
•Mapping of Geographic Location
•Phone Numbers
•Associated E-mail Addresses
This new feature provides small business owners comfort during the hiring process and ensure that informed and reliable choices are made regarding hiring decisions.
"Background searches are a must in today's hiring process, whether you are hiring in a corporate sized business or for household maintenance services. For safety and efficiency, it is important to screen every new applicant," says Vin Gupta, founder of infofree.com.
To try infofree.com and the new background search feature visit http://www.infofree.com or call 877-448-0101 for more information.
About Us: Infofree.com is revolutionizing the sales lead and mailing list industry by providing unlimited search, select and view of over 16 million business records, 225 million consumers, and hundreds of other specialty databases for the low, flat price of $49.95 per month or $449 a year. Reach new homeowners, new movers, newlyweds, new businesses and much more.