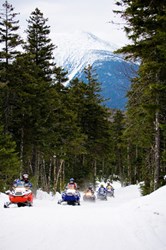 Snowmobiling takes you away from civilization and into mother nature. The White Mountains are perhaps some of the most scenic riding you can experience.
Lincoln, NH (PRWEB) January 25, 2014
The Corridor 11 snowmobile trail runs almost the entire length of the state of New Hampshire. This trail system, along with many others, creates 7,400 miles of trails in the state. The Lincoln-Woodstock section of Corridor 11 meanders through beautiful forest, between mountain passes, and often right back to your hotel. This meticulously groomed trail boasts great conditions for beginners and experienced riders alike.
The sport of snowmobiling has grown in popularity over the years as more and more families have discovered that it is an alternative way to get outdoors in the winter, rather than just hitting the slopes. Paul Fresolone, owner of SledVentures in Lincoln said; "Snowmobiling is a great outdoor family winter activity that everyone should experience at least once during their lifetime, but remember it is very addictive and you may become hooked."
It is also the convenience of snowmobiling that draws the attention of those seeking to get a thrill while enjoying the beauty of the Western White Mountains. SledVentures, as well as Outback Kayak, offer rentals, a short training session and then take families out on guided tours. "You are out riding with friends and family, enjoying the time together that you would never have a chance to have otherwise," said Fresolone. And with many hotels in the area offering snowmobile packages it really is very easy to have the experience.
For those who own snowmobiles, make sure to get a NH Snowmobile Registration before heading out on the trails. These can be attained by visiting Pemi Cabins.
To book a tour, register your snowmobile, or for more information:
SledVentures: 603-238-2571 http://www.nhsledventures.com
Outback Kayak: 603-745-2224 http://www.outbackkayak.org
Pemi Cabins: 603-745-8323 http://www.pemicabins.com