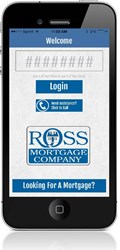 "We now combine integrity, technology and friendly customer service to provide an exceptional experience." - Bob Kalagher, President Ross Mortgage Company
Westborough, MA (PRWEB) January 09, 2014
Ross Mortgage Company, headquartered in Westborough, MA is pleased to announce the launch of their state of the art Enterprise App for mobile devices. The private label software offers solutions to many of the systemic problems surrounding the loan approval process.
The mobile app is engineered to place many helpful and important features right at the fingertips of applicants. Including mobile capture technology allowing customers and realtor partners the ability to point, capture and securely share time sensitive documents required for underwriting, approval or closing. It literally transforms the loan process, making it simple for customers to get real-time loan status updates, communicate with all relevant entities, share data and remain engaged. The transparent share of information and seamless communication enhances the overall loan experience.
The resulting reduction in latency results in mortgage loans being processed, underwritten, and closed faster than ever before. Customers are kept abreast of important dates and milestones via the e-calendar. A realtor interface is available allowing them to be involved throughout the mortgage loan process.
A spokesperson for Ross Mortgage Company had this to say, "This app demonstrates our commitment to remain relevant and set the experience for both our clients and realtor partners. Our company has always been interested in giving customers new technology to make their loan experience more enjoyable. We identified the cultural shift to mobile and knew we needed to take the actionable steps required to initiate a successful strategy. We now combine integrity, technology and friendly customer service to provide an exceptional experience."
Ross Mortgage Company offers numerous loan products to fit a wide range of customer needs. They are a Direct Endorsed lender for the Veteran's Administration and Federal Housing Administration. As an approved lender, they are qualified to originate, underwrite and close government guaranteed mortgage loans in each state where they are licensed.
The new app is free and available for download at either the iTunes App Store for iPhone or Google Play for Droid smart phones. Easy Mortgage Apps LLC (EMALLC) worked with Ross Mortgage in developing the new mobile app. EMALLC is a Massachusetts-based company that builds innovative apps that make the chore of mortgage loan processing much simpler. Their successful mobile strategy has moved them to the forefront of mobile technology for mortgage apps.
About Ross Mortgage Company
Ross Mortgage was founded by Robert J. Kalagher and his father in November of 2001. With over 30 years in the retail mortgage banking industry, the father and son team offers professional financial services that are personalized for customer needs. The corporate headquarters is located in Westborough with additional offices throughout Massachusetts and southern New Hampshire. Ross Mortgage is licensed in Massachusetts, New Hampshire, Maine, Connecticut, and Rhode Island. They strive to give every client great loan products and affordable rates. For more information, please visit: http://rossmortgage.co/
Media Contact:
Westborough, MA
Direct: 508-986-6100
Toll Free: 888-986-0060
Woburn Office
781-376-9227
Leominster Office
978-860-0100
corporate.HQ(at)rossmortgageco(dot)com
About EasyMortgageApps.com
Easy Mortgage Apps LLC (EMALLC), located in Massachusetts, builds today's most innovative mobile apps for lending companies. As a leader in mobile technology for mortgage apps, they utilize many of today's most efficient features to give customers all the essential details they need to manage their loan app. Using Mobile Capture Technology, customers can upload documents to their lender and lenders benefit from drip marketing through push notifications. Mobile apps now available to lenders throughout the U.S. and Canada. For more information, please visit: http://www.easymortgageapps.com/
Media Contact:
Michael Kelleher
Easy Mortgage Apps LLC
Toll Free: 888.987.6842