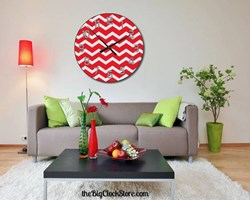 Phoenix, AZ (PRWEB) January 09, 2014
Thebigclockstore.com has done it again. The online personalized wall clock manufacturer has doubled its gross sales for the 4th consecutive year in a row. Since its incorporation date of 2010, thebigclockstore.com continues to make tremendous strides in reaching its customers throughout the world. Receiving orders both day and night, the company has had to move into a much larger facility and double its staff to keep up with the increasing orders.
Thebigclockstore.com specializes in completely personalized wall clocks. Whether it's for your office, board room, convention center, school, living room, kitchen or wherever else you want to put it, thebigclockstore.com can completely customize a clock to match your decor. "The most important thing about our Company," says Noelle Ray, founder and President, "is our ability to make individual clocks, completely personalized for any customer". In other words, there is no minimum order. Most of their customers only purchase 1 clock, although their corporate clients typically purchase dozens or even hundreds with their logo one them.
Mrs. Ray additionally attributes their success to their ability to make personalized clocks of many different sizes. "Our sizes range from 12" up to 60". A 60" personalized clock is something that you pretty much can't find anywhere else in the world."
With their goal of doubling sales again this year, thebigclockstore.com is stepping up their marketing efforts. Online blogs like remodelaholic.com seems to be a huge fan of thebigclockstore.com as does many well know interior designers. The company recognizes that pushing through the next phase of their growth will not come without some problems, but they are ready and looking forward to the challenge of continuing their four year trend.