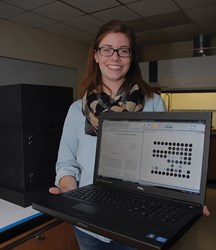 The work she is doing is really cool. It's a simple solution for a complex issue.
Plainview, TX (PRWEB) January 10, 2014
If necessity is indeed the mother of invention, freshman exuberance certainly lends a hand. Just ask Jessica Kenneson.
Kenneson is a junior chemistry/molecular biology double major at Wayland Baptist University and her curiosity about an article she read in one of her freshman science classes has led to research in tuberculosis, as well as the development of an imaging system that is proving to be an integral part of that research.
The Colorado Springs native attributes the work she is doing to the research environment at Wayland and the support of her chemistry professor, Dr. Robert Moore. Work that already is earning the undergraduate some significant attention. Kenneson recently gave a presentation on the newly-designed imaging system, developed by her and Dr. Moore, at the Southwest Regional American Cancer Society meeting in Waco last November. She was approached by a researcher from Texas Tech University in Lubbock who was interested in seeing if the system could be applied to the research on microchips being done by his research group.
Tech Professor Dr. Dimitri Pappas explained that his group develops microchips that can do biological analysis for cancer drug testing and blood testing. However, the processes with which they work are difficult to image quickly and as he listened to Kenneson's presentation he realized the system she described might be useful in helping them with their imaging issues.
"The work she is doing is really cool. It's a simple solution for a complex issue," he said.
The work Kenneson is doing revolves around tuberculosis and the fact that the disease is relatively stable until it is treated, according to Dr. Moore. Once treatment begins, he said, mutations begin to occur, often quite rapidly. To make matters worse, he continued, most of the tuberculosis across the world has become drug resistant to at least one frontline drug and multi-drug resistance is an increasing problem. He said that individuals have to follow a very strict treatment regimen in order to prevent the disease from mutating.
Moore said that as he and Kenneson looked at some of the features of tuberculosis, what they discovered was that there was no known mismatch repair mechanism for the disease. Most organisms have an enzyme that scans and repairs damaged DNA.
"That prevents mutations from taking place," Moore said, "but tuberculosis doesn't have that mechanism."
The professor explained that tuberculosis uses an enzyme called RecA to "repair" damaged DNA, but evidence suggests that it may actually be what is causing the mutations to occur.
"(RecA) finds damaged DNA, which is very common with a lot of the medicines we treat (tuberculosis) with. When it finds damaged DNA that has been nicked or cut, it pulls out the damaged part and finds a similar sequence elsewhere to bring in and repair it. It's been shown that this does induce mutations," Moore said.
According to Kenneson, her research involves determining whether the repair mechanism itself is causing the mutations or if it is merely a coincidental participant in the process. That involves loading a gel with DNA and with the RecA protein. She then induces an electric charge that causes a reaction in the gel and creates distinctive points.
"We have these washes we put over it and it binds this chemical called luminal to the DNA and it emits light. The concentration of the DNA is equivalent to the relative light emitted. So if we see a whole lot of light here, more DNA is bound there," she said.
The problem, she continued, is that there has to be an imaging system that is capable of capturing and quantifying the light being emitted in the process. Those exist, but they are extremely expensive and can be troublesome to use. She cited as an example, an X-ray machine that not only would be expensive to purchase and operate, but would generate environmental hazards, as well.
Moore said the process is called chemiluminescence, and many researchers will use phosphor imaging, but with that, "you are dealing with licensing for handling radioactive material plus the cost of the phosphor imager. Usually only very large universities have those on hand."
Moore went on to say that the alternative was to use a super-cooled CCD camera but those cost in the neighborhood of $40,000. An expense, Moore said, that the university simply cannot afford.
The solution? Come up with a less expensive imaging system, even if it meant developing it in-house.
Moore said that while he knew absolutely nothing about the field of photography, he did understand that the DSLR cameras that currently are on the market are very sophisticated and very sensitive. So, he began asking questions of those who knew more about photography than he did, and the consensus was that he should be able to take a camera that currently was on the market and build his own system.
Ultimately, Kenneson said, they settled on a Canon EOS 5D Mark II camera with a Canon EF 35 mm, f/1.4L USM wide angle lens. They built their own black box and rigged the camera to fire remotely. They hooked it up to a laptop and used Adobe Photoshop to process the images. They then used free software from NIH to handle the science.
Ultimately, she said, it cost about $10,000 to get the system operational and while that still is pretty steep, Kenneson said that she and her colleagues have discovered something that makes the imaging system extremely cost effective.
"We were able to test four or five different types of assay techniques," she said, adding that using the existing technology would require expensive systems that were designed specifically for each technique.
"Being able to do five different assay techniques with one system, for a third of the cost of each of them, is helpful for universities like us," she said.
Kenneson said that in general, all researchers really need to know in order to use the imaging system she and Moore developed is what camera settings work best for a specific technique.
"If we can get that out there, other schools can develop these systems on their own and calibrate them and get them in place for them to use," she said.
That is why it was such a pleasant surprise to her when she was approached by Dr. Pappas about the system following her presentation in Waco. She said Wayland and Tech have an arrangement that allows WBU students to use the more advanced equipment at Tech when the need arises. Now, she said it's nice to possibly offer something in return.
"We have a relationship with Texas Tech that we get to go down and if we want to we can use their equipment because they trust us. That's really cool," Kenneson said. "It's neat to be able to offer them something. Having it go the other way is very exciting. That was kind of the goal, to be able to offer it to others to use."
As for the opportunities she has at her own school, Kenneson agrees that Wayland's science program is underestimated by many who think it is the product of a small liberal arts university in rural West Texas. Rather, she explained, as an undergraduate she and her fellow students have the freedom to choose research projects that interest them and pursue those in a strong learning environment with small student/teacher ratios that allow for good one-on-one experiences.
"You don't have to join in a research program that was already started," she said. "Dr. Moore helped me start this my freshman year because I was interested in something that I read for my final in his class."