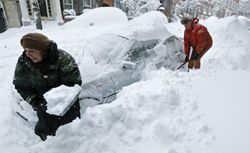 The flowers are already coming out in Victoira.
Victoria BC (PRWEB) January 27, 2014
Ever dreamed of retiring to warmer climate?
This year is turning into a deep freeze across Canada and the United States, except here in Victoria where they are having the usual predicted mild typical winter with average temperatures ranging with Highs of 7.8 Lows of 1.3 and a Mean of 4.6
The Weather Network's top forecaster is advising Canadians to keep their winter mitts close and snow shovels even closer as he expects much of the country is in for a harsher blast of winter than it was dealt last year.
So if you can't hack another freezing cold Canadian winter and vacationing in Mexico or the Southern United States is out of reach a Victoria entrepreneur has come up with a solution.
One Victoria Hotel Owner – Robin Kimpton foresees the tsunami of baby-boomers coming to Victoria to Retire and he has done something about it. He has discovered that many of those living on modest incomes or fixed pensions don't want or aren't interested in the high cost of today's four or five star retirement centre's. Students are also looking for an affordable independent lifestyle and a great place to study and live.
So what has he done, he bought a hotel/apartment in a market that is in over supply (with decreasing tourism) in one of the World's most beautiful cities and best climates and turned it into an affordable Residence Hotel / Apartment Building. Instead of the typical $100 a night room rates that others charge, he rents out fully self-contained rooms averaging about $750 per/month with everything included.
Imagine living in a mild temperate climate – you can, the only thing missing is belief.
The beauty of The Wizard of Oz is that we are all able to identify with the characters and their challenges along life's path. Doesn't it make you think of the fantastic life you could have if you really believed you could?
With the average cost of Retirement Homes in Victoria, BC costing $2,918 per month; and Vancouver Retirement Homes rates ranging from $1,944 to $4,157 per month, depending on the type of accommodation, location and services offered – retirement is probably out of reach for most people, or is it? What if you were to look at what really matters in a different way?
According to the Census Bureau, while the number of people between the ages of 55 and 64 will grow by about 11 million between 2005 and 2025, the number of people who are 25 to 54 years old will grow by only 5 million. This trend will affect economic growth. With figures like that it is critical that marketing professionals understand the changing needs of the baby boomer generation and today's seniors. Seniors today have more active lifestyles, and they are healthier.
New Year's has always been a time for looking back to the past, and more importantly, forward to the coming year. It's a time to reflect on the changes you want (or need) to make and resolve to follow through on those changes.
Everyone starts the year as though a page has been turned, all the bad of the prior year suddenly washed away. Unfortunately, the calendar is an arbitrary thing and only momentum real – hard to gain and easily lost.
Life is short – if not now - when?
Was money a big source of stress in your life last year? Join the millions of Canadians who have will have to spend less this year to get a handle on their finances.
Prices and taxes are rising faster than income and most of us are earning less than we did in the 70's.
Given the hectic, stressful lifestyles of millions of Canadians, it is no wonder that "enjoying life more" has become a popular resolution in recent years. It's an important step to a happier and healthier you!
Want a new beginning – a fresh start?
Have you ever wanted to escape to the West Coast but reports of two bedroom bungalow dumps in Vancouver going for $700,000 just depress you?
This year, home value gains will slow down significantly because of higher mortgage rates, more expensive home prices, and more supply created by fewer underwater homeowners and more new construction.
Thinking of buying a condo but don't want to be stuck with ever increasing strata council fees, property taxes, a leaky condo or some asshole neighbor.
The future more than ever, one could argue, will be created by those who believe in the impossible, as crazy as that might sound.
It is a time to throw the old life style plans in the trash and start from scratch, because the world has changed.
No-one cares about products and services, they care about themselves.
Victoria offers a great weather, healthcare services, ocean activities, shopping, and a wide range of artistic, educational and recreational activities to meet just about anyone's wishes.
Residents here don't need some giant expensive house to live in because people spend much more time outdoors exploring Beautiful Vancouver Island.
Downsizing now to a self-contained bachelor unit $650 - $900 per month on a month-to-month basis just makes sense.
Your may find that self-contained bachelors may be of interest to you either on a short-term vacation; say a trial basis for moving to the West Coast or as semi-permanent, retirement accommodation at an affordable price.
Don't bog yourself down with all monthly bills either, find a place that includes all the important amenities in life - like WiFi, Satellite TV, Heat, Hot Water, Air Conditioning, Laundry, great public transportation, and no property taxes.
Find yourself a centrally located Residence Hotel - furnished or unfurnished.
You may view our units on Craigslist or kijiji.ca by entering 760 Queens Ave. in the search window of the real estate category.
https://www.facebook.com/pages/Hotel-760/279499272074343
http://pinterest.com/bwcgreg/boards/
Also visit our website http://www.Hotel760.com
We are Affordable - Safe - and Pet Friendly