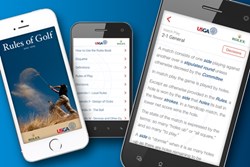 The redesigned Rules of Golf app provides convenient access to the Rules and the decisions on those Rules on mobile devices -Sarah Hirshland, USGA senior managing director of business affairs
Far Hills, NJ (PRWEB) January 07, 2014
As part of its continuing commitment to provide greater clarity and broader distribution of the Rules of Golf, the United States Golf Association (USGA) today launched an enhanced version of its Rules of Golf mobile application for iOS and Android devices.
The application features a smart-search capability that connects users to the Rules information contained in the most recent versions of the Rules of Golf and the Decisions on the Rules of Golf books.
"The redesigned Rules of Golf app provides convenient access to the Rules and the decisions on those Rules on mobile devices," said Sarah Hirshland, senior managing director of business affairs for the USGA. "The update complements the USGA's digital offerings and will help promote golfers' understanding of the Rules and enhance their enjoyment of the game."
Part of the update is a streamlined sharing process for the distribution of Rules and decisions via email. Direct links to http://www.usga.org have been added for quick access and for sharing with others.
"The Rules of Golf mobile app utilizes the latest technology to deliver Rules information to a greater audience," said Thomas Pagel, the USGA's senior director of Rules and Amateur Status. "The app is designed to offer a higher level of information and insight that has not previously been available in one place."
Additional features will be added to the app during 2014, including information regarding the Rules of Amateur Status.
The Rules of Golf app is free and available for download now via the iTunes Store or Google Play, and more information is available at http://www.usga.org/mobile. Access to the Decisions On The Rules of Golf is also available free for a limited time and will become an in-app purchase option beginning April 1.
About the USGA
The USGA conducts the U.S. Open, U.S. Women's Open and U.S. Senior Open, as well as 10 national amateur championships, two state team championships and international matches, attracting players and fans from more than 160 countries. Together with The R&A, the USGA governs the game worldwide, jointly administering the Rules of Golf, Rules of Amateur Status, equipment standards and World Amateur Golf Rankings. The USGA's reach is global with a working jurisdiction in the United States, its territories and Mexico, serving more than 25 million golfers and actively engaging 150 golf associations.
The USGA is one of the world's foremost authorities on research, development and support of sustainable golf course management practices. It serves as a primary steward for the game's history and invests in the development of the game through the delivery of its services and its ongoing "For the Good of the Game" grants program. Additionally, the USGA's Course Rating and Handicap systems are used on six continents in more than 50 countries.
For more information about the USGA, visit http://www.usga.org.