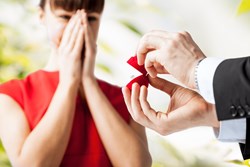 Now is the best time for buying or selling an engagement ring.
St. Louis, MO (PRWEB) January 08, 2014
Valentine's Day is fast-approaching, and last year, 6 million people were either expecting or planning a marriage proposal. Nothing completes a proposal quite like the perfect ring. Have You Seen the Ring, a leader in pre-owned engagement rings, published a new e-Book to help buyers shop online for the best value in engagement rings. This is also an opportune time for anyone selling jewelry to publish a listing, and the e-Book outlines in detail how to do that safely.
Pre-owned engagement rings, when bought on a site like HaveYouSeentheRing.com, go for up to 80% off the retail price. Since the Valentine's Day is only a month and a half after Christmas, many buyers are still pinching pennies, and buying pre-owned is the perfect option.
"Now is the best time for buying or selling an engagement ring," says Philip Johnson, founder of HYSTR. "Some sellers need extra cash to cover the holiday shopping, and some buyers want to give their partner a marriage proposal for Valentine's Day. Our e-Book is there to show readers how they can connect with other buyers or sellers online and find that perfect piece of jewelry at a heavy discount. Many rings that classify as pre-owned have never even been worn," he adds.
Needless to say, buyers and sellers can be wary of completing a transaction online. Thus, the e-Book is full of information about what makes HYSTR the safest platform for buying and selling, including the fact that all money is held in escrow until the jewelry has been verified. The e-Book is available for free download on the website.
Established in 2010, St. Louis-based Have You Seen the Ring is the safest marketplace for selling pre-owned engagement rings and loose diamonds. The company connects independent buyers with independent sellers of pre-owned jewelry in a safe, trusted environment.