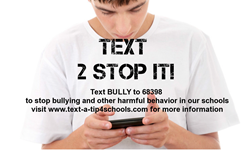 Text 2 Stop it! works because kids are more comfortable with texting than with all other forms of communication
Centreville, MD (PRWEB) January 09, 2014
Following a successful pilot that allowed school administrators to intervene in bullying, suicide and other unsafe activities in schools, on December 17, 2013 the Queen Anne's County Board of Commissioners unanimously approved expanding the "Text 2 Stop it!"™ program in county schools.
"Text 2 Stop it!"™ is an innovative, new, two-way text communications program that enables school administrators to acquire detailed information about incidents occurring in schools. The pilot program included two county high schools. During the first six weeks, more than 30 students used "Text 2 Stop it!"™ to report bullying, cyber bullying, drugs, smoking, and even students considering suicide.
"Mobile phones and texting are very comfortable ways for our students to communicate," said Queen Anne's County Schools Superintendent Dr. Carol Williamson. "We have been looking for a way that students would be able to communicate concerns to their school administrators. Our highest priority is the safety of our children."
"Text 2 Stop it!"™ can also assist school administrators to address school-related incidents off campus. When students noticed a friend being teased and bullied on the school bus, they were able to text the situation and have the information forwarded to school counselors, who were ready to intercede. In another situation a student sent a text, late at night, that their friend had posted on social media that they planned to commit suicide. School counselors received a text to their cell phones that evening informing them of the urgent concern and were, again, able to intervene.
"Text 2 Stop it! works because kids prefer texting to all other forms of communication," said Alvin Butler, President of Text2Them, Inc., and creator of "Text 2 Stop it!"™. The texting program allows students to report incidents anonymously so that they no longer have to risk going to the principal or online to the school's anti-bullying webpage where they are required to give their name and risk being labeled a "snitch."
How "Text 2 Stop it!"™ Works
Students report concerns and unsafe activities by using the school's unique text keyword to 68398. Once received, Text2Them provides the student with a privacy code and starts the process of acquiring additional information by text such as: what happened, location, dates, times, and names of victims, perpetrators and witnesses. If the student has pictures or a video of the incident this information can be downloaded from their cell phones to Text2Them. Once the information is compiled, a complete text conversation is sent to the designated school administrator for follow-up action. For more information and a live demonstration, Text BULLY to 68398 to learn how the program works.
About Text2Them, Inc.
Text2Them, Inc. is a Maryland-based firm that installs text messaging networks for schools, businesses, and government agencies using its patent pending two-way texting technology. In addition to Text 2 Stop It! ™ program, Text2Them, Inc. is piloting its two-way texting technology for use in suicide prevention through 1-800-SUICIDE as well as business, government and post disaster emergency communication.