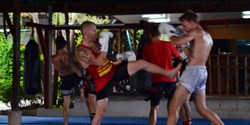 "He was back in Thailand right after his last fight to get more training in traditional Muay Thai and then as soon as he was back, he hopped into Mike Easton's training camp for UFC Fight Night."- Julius Park, Coach
Owings Mills, MD (PRWEB) January 07, 2014
Jon Delbrugge (3-1) has signed to fight Bryan Danner (4-2) at Cage Fury Fighting Championship 32. The bout will be contested in the lightweight division (155 lbs and below).
Jon "Devastator" Delbrugge is a professional Mixed Martial Arts fighter and a resident of Howard County, Maryland. He has been training at Crazy 88 Brazilian Jiu-Jitsu for over 5 years. Currently, a Brown Belt in the martial art of Brazilian Jiu Jitsu, Delbrugge began fighting professionally at the end of 2012. As an amateur he compiled a perfect 6-0 record. His last bout was a 9 second KO victory over Neil Johnson (7-5 at the time).
Mixed Martial Arts (MMA) combines techniques from a variety of fighting styles including boxing, wrestling, jiu-jitsu, and others. MMA is a relatively newer style of fighting, but has grown substantially since the beginning of the UFC in the 1990's.
"Jon genuinely enjoys training and has been working on all the various aspects of his game throughout the holidays. He was back in Thailand right after his last fight to get more training in traditional Muay Thai and then as soon as he was back, he hopped into Mike Easton's training camp for UFC Fight Night." stated Crazy 88 founder, Julius Park.
"Danner is a tough opponent and it will be a good fight but Jon will definitely be prepared."
The bout is scheduled for February 22nd at Valley Forge Casino Resort-King of Prussia PA.
Crazy 88 is a Mixed Martial Arts program that offers training for adults as well as children in three locations throughout Maryland. For more information Jon Delbrugge and Mixed Martial Arts competition training in Howard County MD - Call: 443-283-1450 or visit http://www.BaltimoreMixedMartialArts.com. For information on training in Owings Mills Call: 410-999-1064 or visit http://www.Baltimore-MMA.com
About Cage Fury Fighting Championships. CFFC is an American mixed martial arts (MMA) promotion. Founded by Felix & Amy Martinez, the promotion promoted in Atlantic City, NJ. The promotion has featured many Ultimate Fighting Championship (UFC) veterans, including fight commentator Dan Severn, as well as appearances by Evan Tanner, Kimbo Slice, Frank Shamrock, and Homer Moore. A number of former champions (Carmelo Marrero, Jim Miller, Dan Miller) have appeared or currently appear in the UFC.