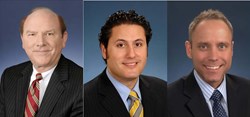 Los Angeles, CA (PRWEB) January 09, 2014
Murchison & Cumming, LLP is pleased to announce that William D. Naeve has been named Senior Partner and that Mhare O. Mouradian and Bradley T. Wibicki have been named Partners.
Mr. Naeve practices in Murchison & Cumming's Irvine office, where he Co-Chair's the Firm's Management Protection, Directors & Officers, Employment Law and Class Action & Consumer Litigation practice groups. He focuses his practice in the areas of employment and first and third party bad faith, defense of business litigation, employment termination and discrimination, ERISA, wage & hour, health law, and life & disability bad faith claims and litigation. He is AV-rated by Martindale-Hubbell is admitted to practice before all California and Nevada state courts; the United States Supreme Court; the United States Court of Appeals, Ninth Circuit; the United States District Court, for the Eastern, Central, Northern and Southern Districts of California; and the United States District Court, District of Nevada. He has served as Judge Pro Temp in the Orange County Superior Court.
Mr. Mouradian focuses his practice in the areas of complex civil litigation, business litigation and corporate and real estate transactional matters. He is resident in Murchison & Cumming's Los Angeles office, where he is a senior member of the Firm's Vertical Transportation practice group and also handles business litigation and transactional matters from the Firm's San Francisco office. Mr. Mouradian is AV-rated by Martindale-Hubbell, has been named as a "Top Attorney" for civil litigation by Pasadena Magazine for four consecutive years and has made the list for Southern California Rising Stars® for five consecutive years. Mr. Mouradian represents businesses and individuals in federal and state courts, involving claims of business torts, breach of contract, fraud, partnerships disputes, unfair business practices, theft of trade secrets and negligence. He also has experience in product liability, toxic tort and environmental law, professional liability, premises liability and employment law. Apart from assisting clients in legal matters, Mr. Mouradian enjoys participating in Pro Bono work.
Mr. Wibicki practices in the Firm's Las Vegas office, where he is a member of the Firm's Health Law/Long Term Care Facilities for the Elderly practice group and its Ad Hoc Committee. He focuses his practice in the areas of insurance law, premises liability, product liability and general liability. Previously handling transactional work in Illinois, including real estate and contractual matters, he maintains strong ties to the state and to his alma mater, Chicago's John Marshall Law School. During his graduate career, Mr. Wibicki served as a student-licensed attorney for the City of Chicago Department of Building and Land Usage.
About Murchison & Cumming, LLP
With a firm history dating to 1930, Murchison & Cumming, LLP is a premier, AV-rated civil litigation firm with five offices in California and Las Vegas, whose attorneys specialize in the defense of domestic and international businesses, insurers and individuals, at trial and on appeal. The firm's attorneys also handle employment matters and business transactions. The firm is a member of the USLAW Network. For additional information, please visit our website at http://www.murchisonlaw.com.