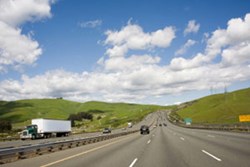 Los Angeles, CA (PRWEB) January 13, 2014
24-7 Van Lines – one of the oldest and most respected moving companies in Southern California – has implemented a new GPS tracking feature on their modernized truck fleets to provide an even greater depth of logistics to its customers. The company specializes in all types of moving, ranging from interstate, residential, commercial, nationwide and international moving services.
According to study that was conducted by Melissa Data, in combination with records culled from the U.S. Census Bureau, approximately 14.9 percent of Americans relocate every year. About 23 million move within the country; about 7.7 million relocate to a different county within the same state; about 7.6 million relocate to a different state; and about 1.2 million relocate internationally. The tally of all people moving in the U.S. annually exceeds 40 million people, thus underscoring the demand for a reliable nationwide moving service.
Mark Tanning, spokesperson for 24-7 Van Lines, says that movers want to know when their possession will arrive so they can start getting moved in and situated. "It's one of the most common questions that we get asked," he explains. "Many people who are considering using our services for nationwide moving commonly ask us: 'When will my possessions arrive at my residence?'"
"We went to great lengths to outfit our entire fleet of modernized trucks with state-of-the-art and integrated, synchronized GPS units that tell us where the truck is, and that also provides us – and our customers – with up-to-the-minute updates on the truck's progress and transit time," he explains. "This enables us to answer our customer's questions with an efficacious response, and to inform them of precisely when they can expect that moving truck to pull up with their belongings."
About
24-7 Van Lines is a respected moving company based in Southern California that specializes in residential, commercial, long distance (cross country) and international moving. Their modern fleet of well maintained and technologically advanced, GPS equipped trucks ensures that the logistics of the move are tracked from every step of the way, assuring customers the peace of mind they deserve in knowing the exact minute that their possessions will arrive at their new location. Learn more by visiting them online at: http://www.247vanlines.com.
Press Contact:
Mark Tanning
24-7 Van Lines
(323) 920-0048