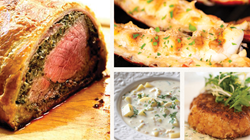 (PRWEB) January 08, 2014
Impossible-to-get reservations. Pricy prix-fixe menus. Valentine's Day is a time to enjoy your loved one and not stress over crowded restaurants and limited options. This year, GetMaineLobster.com is offering a variety of Valentine's Day dinner specials for delivery and has just unveiled one of its irresistible dinner packages.
The Maine Lobster Tail and Classic Beef Wellington Dinner for Two is nearly impossible to beat. And at 50 percent off of the standard retail price, it won't break the bank and will instead allow room for other gifts and surprises. Simply enter coupon code "WELLINGTON" upon checkout and pay just $81.50 for a romantic dinner for two in the comforts of home.
This popular surf-and-turf dinner package includes two three- to four-ounce Maine lobster tails, two nine-ounce classic Beef Tenderloin Wellingtons, two chef-made Maine crab cakes and one quart of Get Maine Lobster's own Maine clam chowder. The classic Wellington recipe uses USDA choice Beef Tenderloin enrobed in mushroom duxelle made with Parmesan cheese, white wine, cream and shallots; all wrapped in a light, flaky puff pastry. This dinner is rich, decadent and impossible to resist, and will help create lasting memories with that special someone.
To learn more about GetMaineLobster.com, browse its wide range of seafood offerings, and to access lobster recipes or view weekly seafood delivery specials, visit GetMaineLobster.com or call (866) 562-4817. For even more lobster news and recipes go to JustAddLobster.com.
About GetMaineLobster.com
GetMaineLobster.com, a division of Black Point Seafood and Black Point Gourmet, hand-selects the finest Maine lobster, seafood and beef products for convenient distribution throughout the United States. Their passion is to make fresh, quality seafood readily available to customers across the country, which is why they buy from only the most trusted, well-established suppliers to ensure that they receive the finest products available.
GetMaineLobster.com was selected out of the more than four million small American businesses served by Chase bank to represent its new Platinum Business Checking product for its 2013 national advertising campaign.