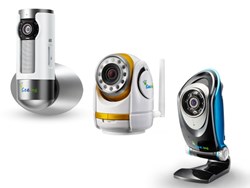 International CES (PRWEB) January 07, 2014
DXG NA debuts its 2014 line of video cameras and accessories at the 2014 International Consumer Electronics Show (CES) this week, including the new See.ing Cam high definition mobile video monitoring camera. The See.ing Cam is the only camera in its class with full 360-degree panning, while letting people monitor anything in their homes or businesses from their smartphones and tablets. Video can be viewed live or recorded to the cloud or SD, and includes features such as smart motion detection alerts and two-way audio. The See.ing Cam features three models, priced from $130-$150, and available in the first quarter of 2014.
The See.ing Cam combines mobile and video monitoring, two of the top trends expected in 2014. With fast and simple set-up and access from iPhone, iPad and Android phones and tablets, the See.ing Cam gives people a new sense of security and peace of mind while they're away. With a simple launch of the app, new moms, business travelers, vacationers and storeowners can keep an eye on their businesses, homes, pets and children in real time or anytime.
See.ing Cam Models and Features – Swivel, Storage and Style
All less than five inches tall, the See.ing Cam comes in three models with loads of options. All cameras include smart motion detection, night vision, two-way audio for listening and responding, video recording to the cloud or SD, still pictures, bank-level security, video sharing, 128-degree wide-angle lens, HD video quality, smartphone or tablet control, and easy set-up that doesn't require a computer.
Model and storage specifics include:

See.ing Cam 110: Offers 360-degree panning and 90-degree tilt with rotating wall mount, compact oval design, $149.99.
See.ing Cam 109: Includes 90-degree rotating wall-mount or tabletop design, sleek white and vertical design, $129.99.
See.ing Cam 105: Tabletop design with color options blue, green, white or yellow, $129.99.
Cloud Service: In addition to the included SD slot for local storage, the See.ing Cam features video hosting for those wanting to record, store and access their video. Hosting includes a free two-week trial, and seven- and 30-day storage options priced from $8.99 to $29.99 per month.
DXG NA 2014 Product Sneak Peak at CES
DXG NA will show its full 2014 line of innovative HD cameras at CES in LVCC, South Hall 4 – 36249. Other new products include an update to the popular IronX action cam with increased video capabilities, sleek new form and higher quality still photos. The company also offers a sneak peak of the new IronX Link, a versatile healthcare and fitness activity wristwatch that tracks steps, calories burned, workout intensity, sleep patterns and more, integrated with diet records and sleep/weight loss assistants.
About See.ing Cam
See.ing Cam brings users peace of mind by providing fast, easy and secure Wi-Fi video monitoring that stores to the cloud or to SD. Perfect for use in the home or business, the affordable See.ing Cam is the first fully mobile smart cam that installs in 60 seconds without the need for cables or computers and delivers 360-degree views. Features include bank-level security, night vision, two way audio, mobile push notifications, smart motion detections, live and recorded viewing, 720p high definition video, 90-degree rotation mounts, 5.0 resolution still photos, and compatible with iOS5 and Android 4.0 devices. The See.ing Cam comes in three models, priced from $129.99 to $149.99, and will be available from http://www.seeing-cam.com in the first quarter of 2014.