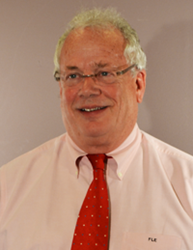 Palo Alto, CA (PRWEB) January 08, 2014
Sofia University extends a warm welcome to new interim President Frank L. Ellsworth, Ph.D. No stranger to the role of President and CEO, Dr. Ellsworth has over 45 years of experience in higher education, nonprofit organization management, philanthropy and governance.
"Dr. Ellsworth has decades of leadership experience and we are highly confident that his service as interim president at Sofia will be of great value to our community of students, faculty and staff,' says Ryan Haylock, Vice President and Chief Information Officer.
Prior to joining the Sofia University community Dr. Ellsworth was the president of Pitzer College from 1979 to 1990. He is the youngest recorded president in the history of The Claremont Colleges. Dr. Ellsworth's academic career combines teaching and administrative management at academic institutions throughout the United States including Penn State University, Sarah Lawrence College and the University of Chicago.
"I am proud to belong to an academic community that historically has embraced diversity and is as steadfast about this ideal as it was during its earliest days," says interim President Dr. Ellsworth. "I believe in transparency and open communication. I have already personally responded to several student emails expressing their ideas for a greater Sofia."
In the current academic year, like many other small private colleges and universities in the U.S., Sofia University experienced an enrollment shortfall relative to its current budget. Difficult measures ensued, in order to balance the budget and preserve Sofia's financial solidity.
"I have reviewed financial information and it appears that we are solid and our operating budget should reflect a break-even for this fiscal year. We are working hard to put in place a process of communication concerning financial matters which is assessable and transparent to the community," says Dr. Ellsworth.
About Sofia University
Founded in 1975, Sofia University (formerly the Institute of Transpersonal Psychology) is a private, non-sectarian university accredited by the Western Association of Schools and Colleges. For over 35 years, within the context of scholarship and research, the school has offered transformative education for the whole person, probing the mind, body, spirit connection. As Sofia University, the school is broadening its mission, reaching into multiple disciplines and adding undergraduate study. For more information, visit http://www.sofia.edu.